When I lived in Santa Monica, California there was a neighborhood coffee shop I would frequent on Ocean Park and 18th Street. A few storefronts down there was a shop that had the most beautiful display of papier mache' skeletons and Mexican Folk Art to celebrate Dia de los Muertos. I was obsessed with the colors, shapes, and imagery – but didn't know much about the annual holiday commemorating loved ones that had passed away, and are said to return to their families each year for on November 2nd.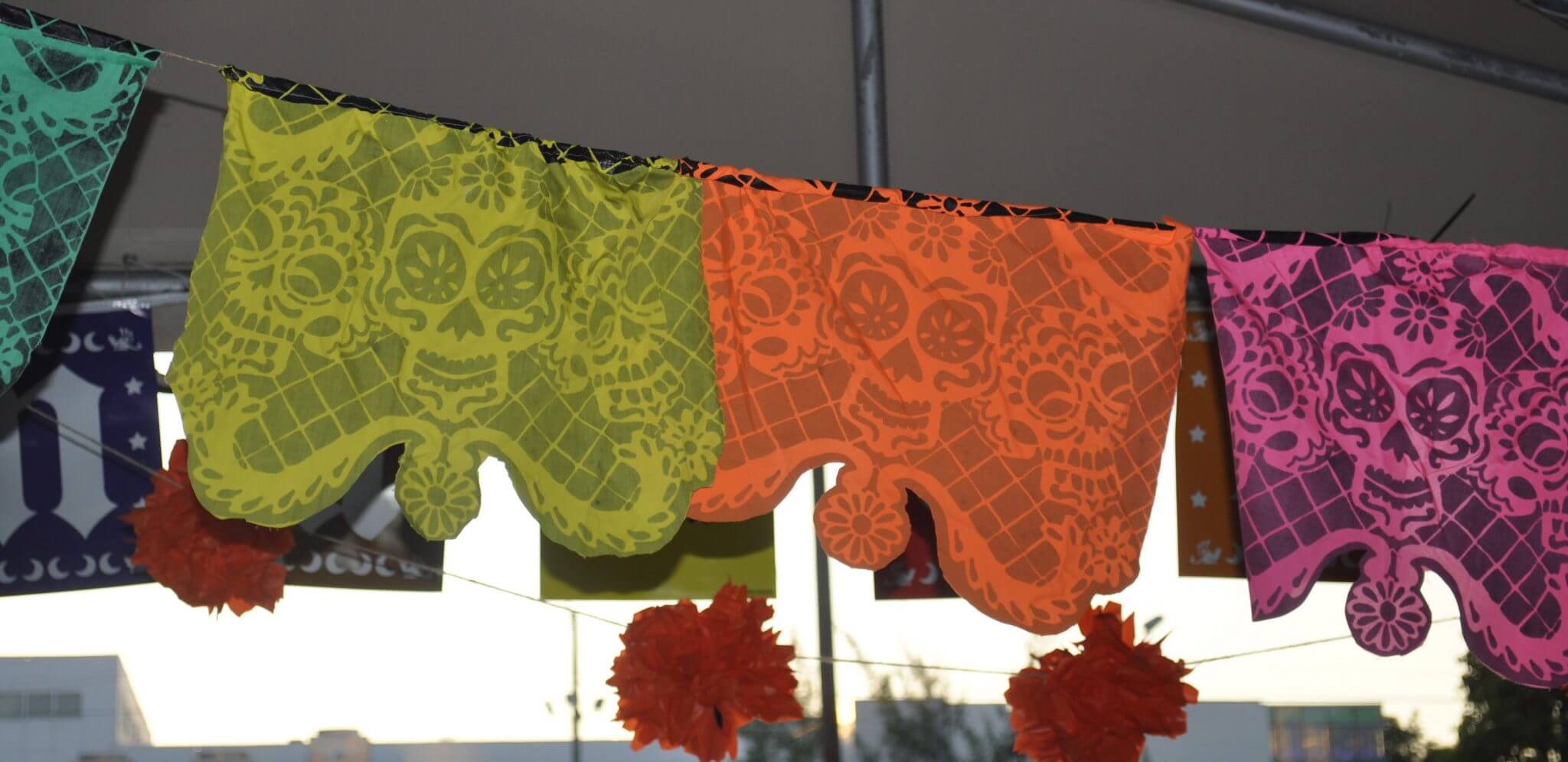 Last year, my two children and I attended the Florida Day of the Dead Celebration in Downtown Ft. Lauderdale. We didn't make it to the processional but we did get to experience some of the street fair which had crafts, food, face painting, and entertainment.
We were too late to get our faces painted, but friends of ours made us paper flower head dresses to join in the festivities. My children enjoyed decorating papier mache' sugar skull masks. I thought they might be a little afraid of the skeleton imagery but they loved it and thought it was really beautiful, as did I. I love the connection and importance of honoring our ancestors.
Celebration and Events for the Florida Day of the Dead, are as follow. Visit the official Florida Day of the Dead website for exact times.
View the Ofrenda Exhibit, or community remembrance alters at the The New River Inn, Fort Lauderdale Historical Society 
Calavaros in the Plaza – Skeleton Costume and Craft Making
Muertos Street Festival – Party Begins
Craft Crypt – Buy DofD crafts and art
Folklorico Stage – Music and Entertainment
Skeleton Precessional at 

Huizenga Plaza, 

32 East Las Olas Boulevard, Fort Lauderdale, FL 33301 
My Tips for Attending the Florida Day of the Dead with Kids

Watch The Book of Life by Mexican Filmmaker, Guillermo del Toro and Jorge Gutierrez. It is a beautifully animated film with an awesome soundtrack. The story begins on the Day of the Dead and "… encourages us to celebrate the past while looking forward to the future." It is one of my favorite animated films.
Get festive before heading down by creating papier mache' flowers for your hair. This would be a fun craft to do with your kids at home. If you have an in-house face painter and little ones who love face painting, you may want to try your hand at creating your own sugar skull for the celebration.
If you don't have time to dress-up before going to the event, you can attend the Calavaros in the Plaza and create costumes there. I do believe for a fee.
If you miss the Calavaros in the Plaza, there will still be face painting and kid's crafts during the Street Festival.
Bring cash. The kid's crafts do cost money.
Prior to the event there are a lot of opportunities around Ft. Lauderdale for different art workshops that vary in ages of participation. Check the schedule, here.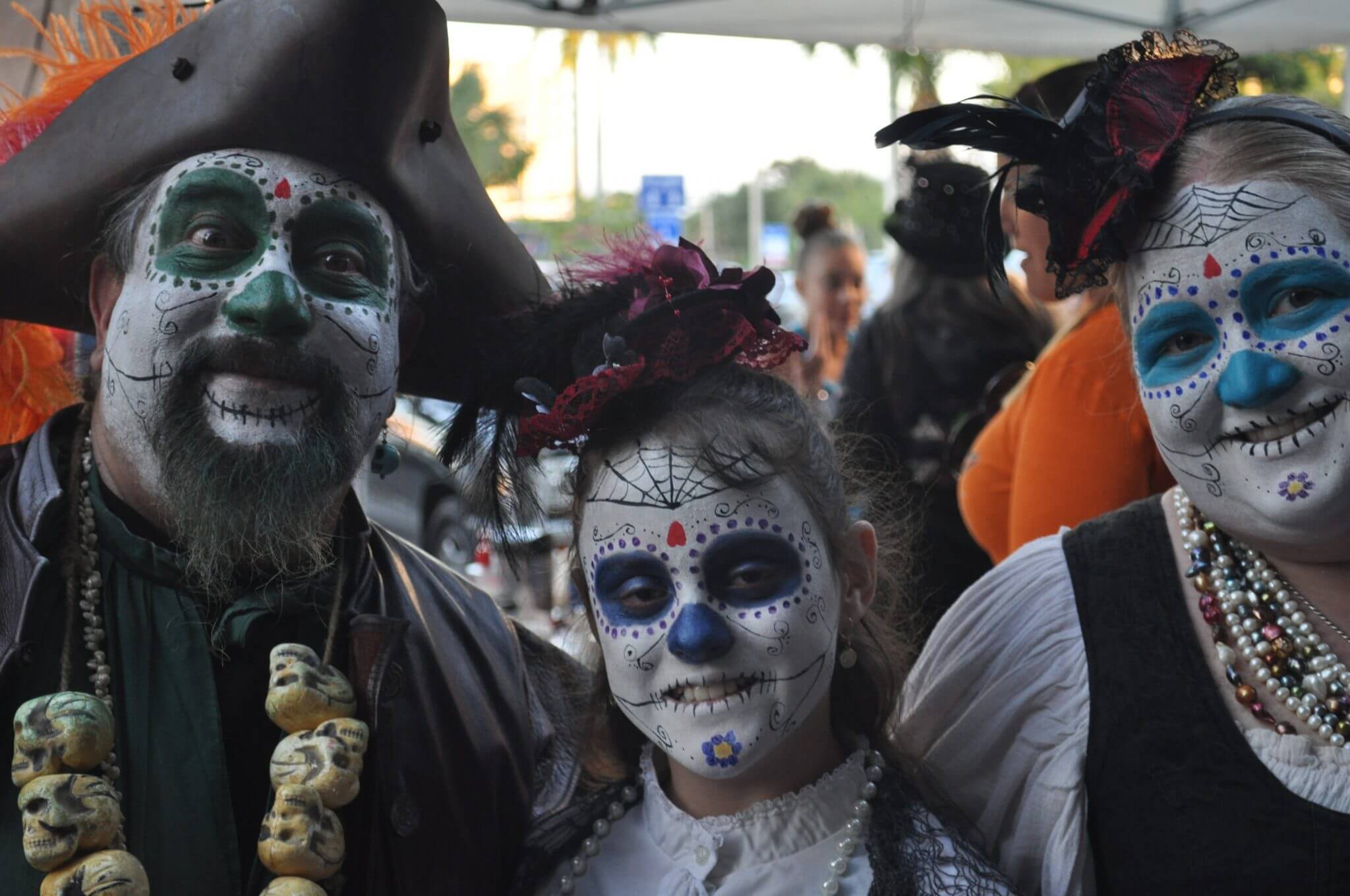 About the Processional
This playful spectacle is the centerpiece of our event!  Our skeleton processional honors traditions where community members in skeleton costumes and masks meander through villages to visit the graves of their ancestors. Opened by the Consul General of Mexico and City Officials, mariachi musicians lead the way as this processional of thousands of skeletons streams from Huizenga Plaza west along Riverwalk.  It then heads north on SW 3rd Avenue, where the celebration continues at Revolution Live Entertainment Complex.
The Mission
Our mission is to produce a free South Florida signature event every November 2nd for all ages that maintains and respects the cultural essence of the Day of the Dead tradition, but also interjects a modern aesthetic as envisioned by regional artists. Additionally skeleton-themed workshops, exhibitions and events shall be created each September and October to make the community opportunity an 8 week series of events each year.  Memory for the dead.  Party for the living.
I really loved the Florida Day of the Dead celebration. It was a great party with beautiful displays of art, music, remembrance, and community.
Have you ever attended a Day of the Dead Celebration? Does your community do anything special for this holiday? We would love to hear about it in the comments below!