Hotels on the beach can be pricey. Hotels downtown are the same. But, what about a hotel on the bay? As part of our mission to explore more of our home state of Florida, we decided a weekend in the Tampa area was a perfect getaway. We rode rides in Busch Gardens, played at the Glazer Children's Museum, splashed around at Clearwater Beach, ate at the Columbia Restaurant, and saw mermaids at Weeki Wachee Springs during our visit to the Gulf Coast. The Bay Harbor Hotel on beautiful Tampa Bay hosted us for our Gulf Coast weekend. It was the perfect location to get to it all.
We received two nights stay in exchange for a review. All opinions are my own.
Sittin' on the Dock of the Bay
Getting to the Bay Harbor Hotel is an easy free shuttle from the airport, or just off Hwy 60 – otherwise known as Gulf to Bay Blvd. The hotel is located on Tampa Bay, providing stunning views at sunset.
Since we were all over the place from Beach to Downtown to an hour away, we loved the central location and easy highway access. The hotel is a direct shot to Clearwater Beach and a few minutes to Downtown.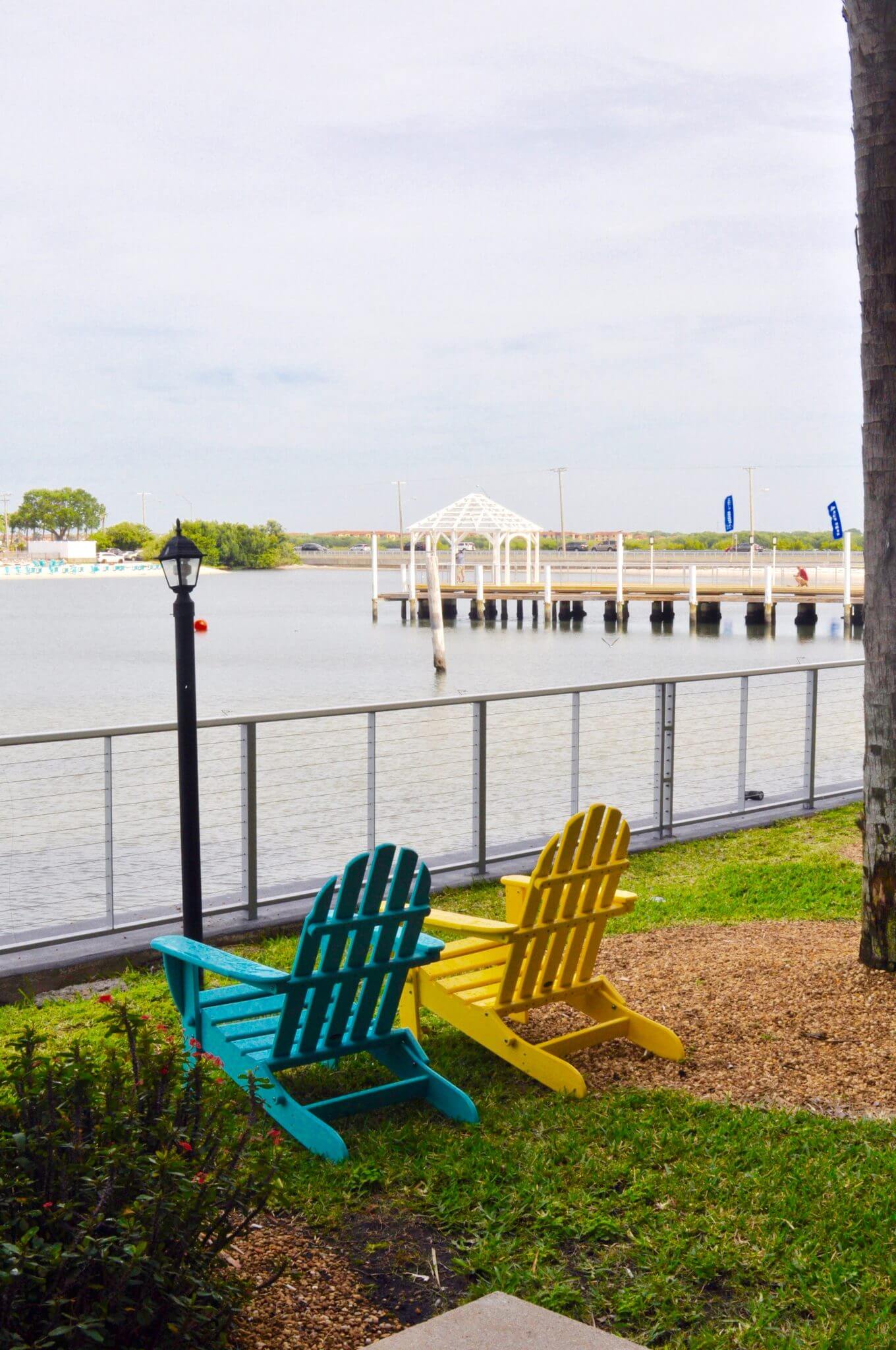 How Much?
Budget is important to us. Finding a hotel in a great location, that is stylish, clean and comfortable, and has kid-friendly amenities with a view under $100 is a hard thing to find. While the Nautical Style rooms are bit more expensive, the regular Double and King rooms range from $79-99 depending on if you choose a Bay View or City View.
The Room with a View
The Bay Harbor Hotel has two style rooms. It was once a Best Western and the Double and King rooms seem to have a more corporate hotel feel that you would find in a Best Western or similar hotel. The updated Nautical rooms have a boutique hotel feel.
We stayed two nights in a Double Nautical Bayview room on the first floor. It was newly renovated with hardwood floors, crisp white linens, a shower, and modern decor. We had a table and two chairs on our patio which connected to a grassy landscaped area overlooking Tampa Bay. The sunsets were unreal.
I was worried about safety, since my baby is a fast mover, but the area was fenced in and everyone was safe. It ended up being a great space for the kids to run around while I sat in one of the Adirondack chairs watching them and the pelican continuously diving in the bay attempting to catch dinner.
On a second trip to Tampa we returned to the Bay Harbor Hotel as paying customers. Since we were only staying for one night, we opted to stay in the less expensive room with a City View. The room was quiet and clean with comfortable beds. The room also had a bathtub which is nice when you have small children.
We found both style hotel rooms to be clean, quiet, and comfortable.
TIP: Request a City View or a Bay View room away from the pool and restaurant. The Beach Restaurant often has live music, in addition to the proximity to the restaurant Whiskey Joe's Bar and Grill around the corner – it could be loud later than your children's bedtime. We did not have a problem with noise whatsoever, but just to be safe.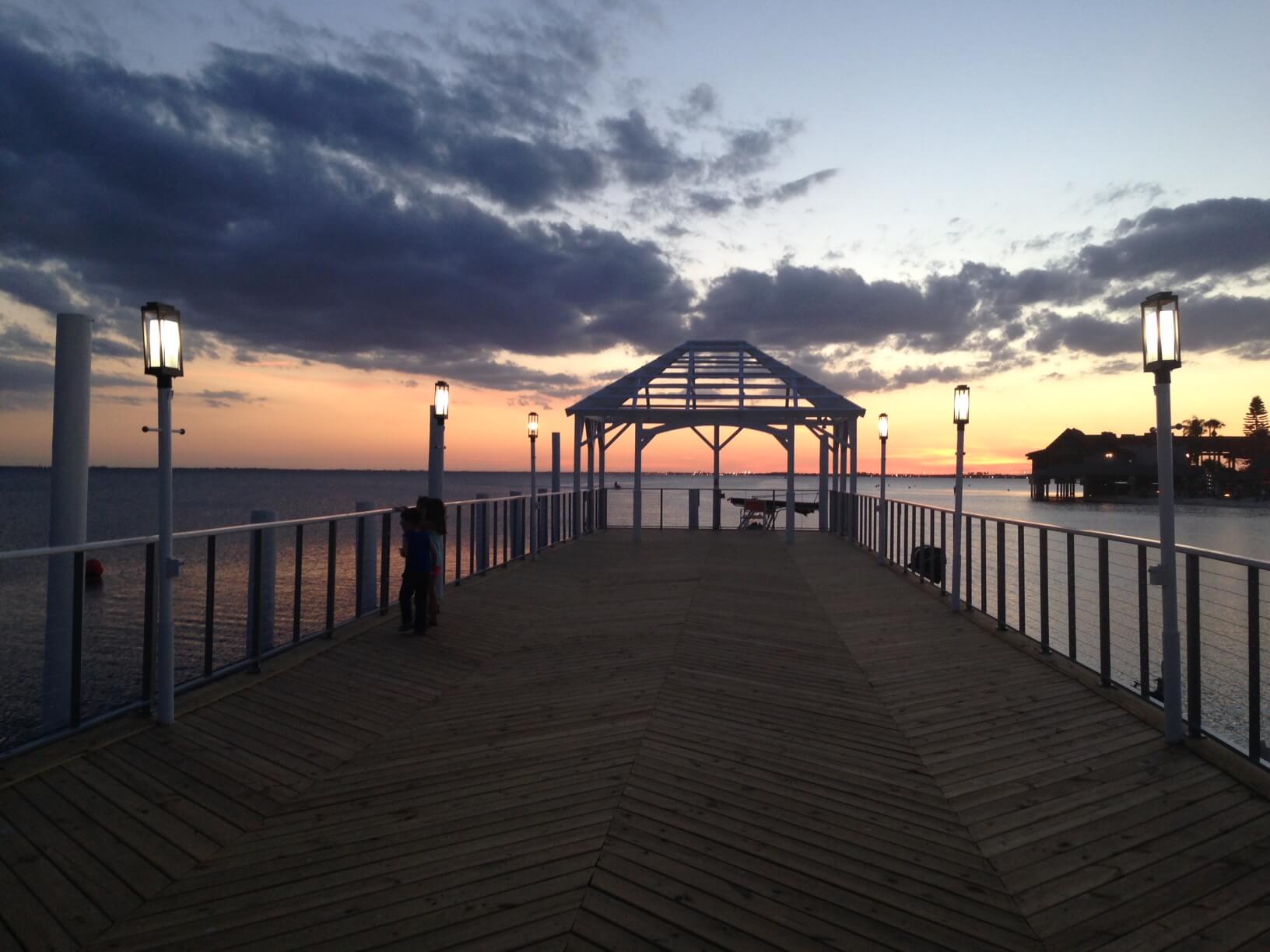 What Else?
Bay Harbor Hotel has an onsite restaurant called Beach Restaurant. Thursdays, kids eat free! They had a movie set up inside at the KidsZone with big legos and an ice cream bar. Outside, my children played with the giant Connect Four and an oversize Chess set. I watched them nearby and comfortably enjoyed my dinner and a drink. Bay Harbor Hotel runs a lot of specials. On our second stay, we received two free drink tickets. Keep an eye out for the special deals they run. I am a big fan of the outdoor space for our family. This was a big plus.
Bay Harbor Hotel also has a pool and indoor gym.
We loved the outdoor community the West Coast of Florida had. As we were returning from Clearwater Beach on Gulf to Bay Blvd. there were a ton of people out walking and running on the paths and bridges. It's a short walk from Bay Harbor Hotel to a pier and beach area alongside the road. It looked great for exercising or hanging out to see the view.
Would we return? We already have! There are two things that keep me coming back to the West Coast of Florida. The sunsets and the sugar sand beaches. Another would be the vibe. I am digging the calmness and fresh air on the West Coast of Florida. It doesn't feel as crowded, and a nightly ritual of watching the colorful sunsets on the horizon is magical.
7700 W Courtney Campbell Causeway
Tampa, Florida, 33607-1430
United States
(813) 281-8900 / (877) 734-3188
If you are looking for a hotel that can conveniently accommodate your family to a trip to the Gulf Coast of Florida, the Bay Harbor Hotel was a great experience for us.
What do you love to do when you are in the Tampa area? Let us know if a comment below.