Florida might not be the first thing that comes to mind when you think of the Winter Holidays. But, Holiday Season in South Florida is full of lights and sweetness. It might be warm. There are most definitely palm trees. You might even make a visit to the beach. There are still a number of opportunities to see Santa and get in the holiday spirit in Florida, Hoffman's Chocolate Winter Wonderland being one of them.
One of our favorite holiday discoveries is Hoffman's Chocolate Factory Store's Winter Wonderland of Lights in Greenacres (just west of Lake Worth). You can find sweet indulgences, a little holiday shopping, Santa and Mrs. Claus, and a great display of lights!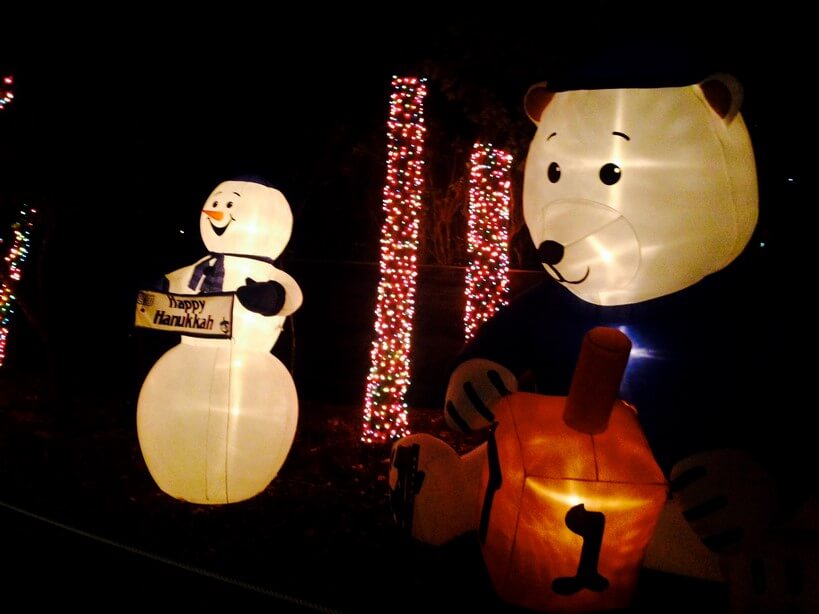 What You Need To Know:
Winter Wonderland is open from 6-10pm nightly.
They are closed on Thanksgiving Day, Christmas Eve, and Christmas Day.
Bring your own camera to take pictures with Santa and Mrs. Claus.

Get there early to see Santa – only on Friday, Saturdays, and Sundays until 12/23
Hanukkah Celebration – Wednesday, December 28th at 5:30pm
Over flow parking is at the Middle School located behind Hoffman's Chocolate. Bringing a stroller will be helpful.
There is enough room to use your stroller in the Winter Wonderland, but not in the store.
Using a baby carrier in the store will be helpful.
Send an adult in the store to pick out treats, while someone else stays in line for Santa.
Although the Winter Wonderland is free, expect to spend a lot of money on the irresistible chocolate.
Don't miss out on the Mexican Hot Chocolate or Pumpkin Milkshakes.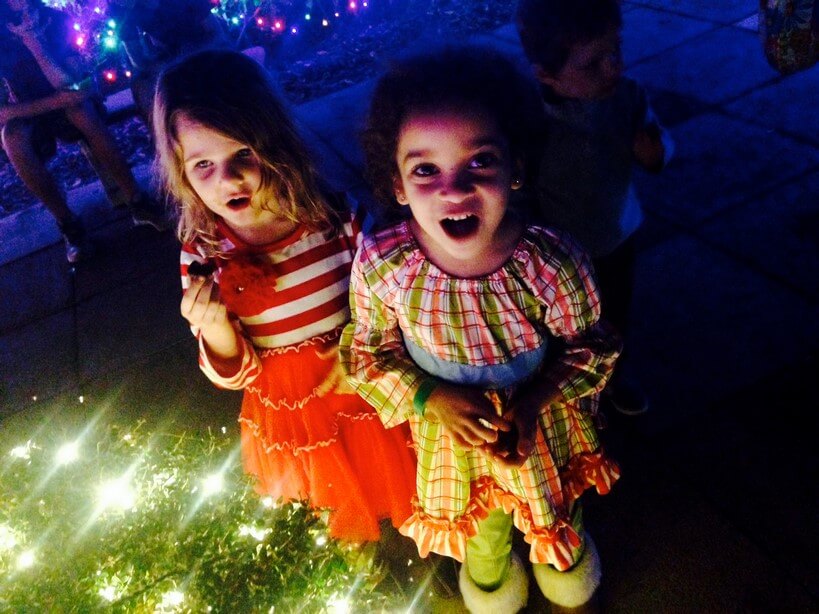 What Treasures Did We find?
Favorite Chocolate Treats For The Kids

Chocolate Covered Pretzels
Chocolate Covered Graham Crackers
Chocolate and Caramel Marshmallows
My Favorite: (I'm partial to dark chocolate, can you tell?)
Dark Chocolate Haystacks
Dark Chocolate Salted Caramel
Dark Chocolate Graham Crackers
My kids had a blast running around Hoffman's Chocolate Winter Wonderland, last year. They loved the lights and larger than life holiday displays.
What are the best Florida neighborhoods or establishments that put you in holiday spirit? Let us know in comment below!
Looking for other treasures in this area? We made a day of it and went to the South Florida Science Center and Aquarium with a stop at Tacos Al Carbon (the best) for dinner before going to Hoffman's Chocolate for dessert.