Camping is something we really want to do with our kids, but I wouldn't exactly describe our family as outdoorsy. Don't get me wrong, we love nature, but my husband might be frightened of the creepy crawlies that lurk around our native Florida. And, with kids ages 6, 5, and 1 – camping has not been high on our must-do vacation list. The main reason, is well, we are scared (and not just of the bugs). I really want our toddlers to not be wandering off or eating ALL the dirt. I have nightmares of him crawling into the fire as we try to roast marshmallows.
So, how do all those families do it? How do they take their precious offspring into the great outdoors with ease and care, and come back home with one of the most memorable experiences of their lives?
Our friend and Mommy hero, Zsofia Inhauser, owner of Soft Baby Walking Shoes provided us with tips for camping with toddlers. Zsofia recently took her 2-year-old son camping in Northern Florida, solo, and shared her must do's and don'ts.
This post contains affiliate links.

Where To Start When Taking Your Toddler Camping
Whether you decide to rough it in your backyard, go to a local campsite, or stay at a campsite a little further off into nature, – you need gear. Here are our suggested list of camping gear you might bring when camping with a toddler:
A good tent. We live in Florida, so a three season tent will suffice. I would get a minimum of a four person tent, but it would be nice to have a tent with multiple rooms to separate your supplies with the bedrooms.
A camping stove. This is not a must as most campsites have a grill – or you can cook over the open fire. But, it can be nice to whip up some eggs over the camping stove.
Sleeping bags.
Camping mats, air mattress, or yoga mat for extra comfort.
Cooler
Camping Knife
Whistle for keeping potential predators away.
Lanterns
Head lamps
Water bottles and a Water Filtration Device like the Travel Berkey.
Bug Spray
Sun Tan Lotion
A Few Choice Toys – crayons and paper, sand toys for digging, and a truck or car.
Battery Charger for your Phone
First Aid Kit
Portable Shower
Beach Towel
A great baby-carrier like a Tula, ergo, or hiking backpack.
Non-Talc Baby Powder for getting sand off.
Baby Wipes
Diapers
Any medications necessary – for us, 2 epinephrine auto-injectors.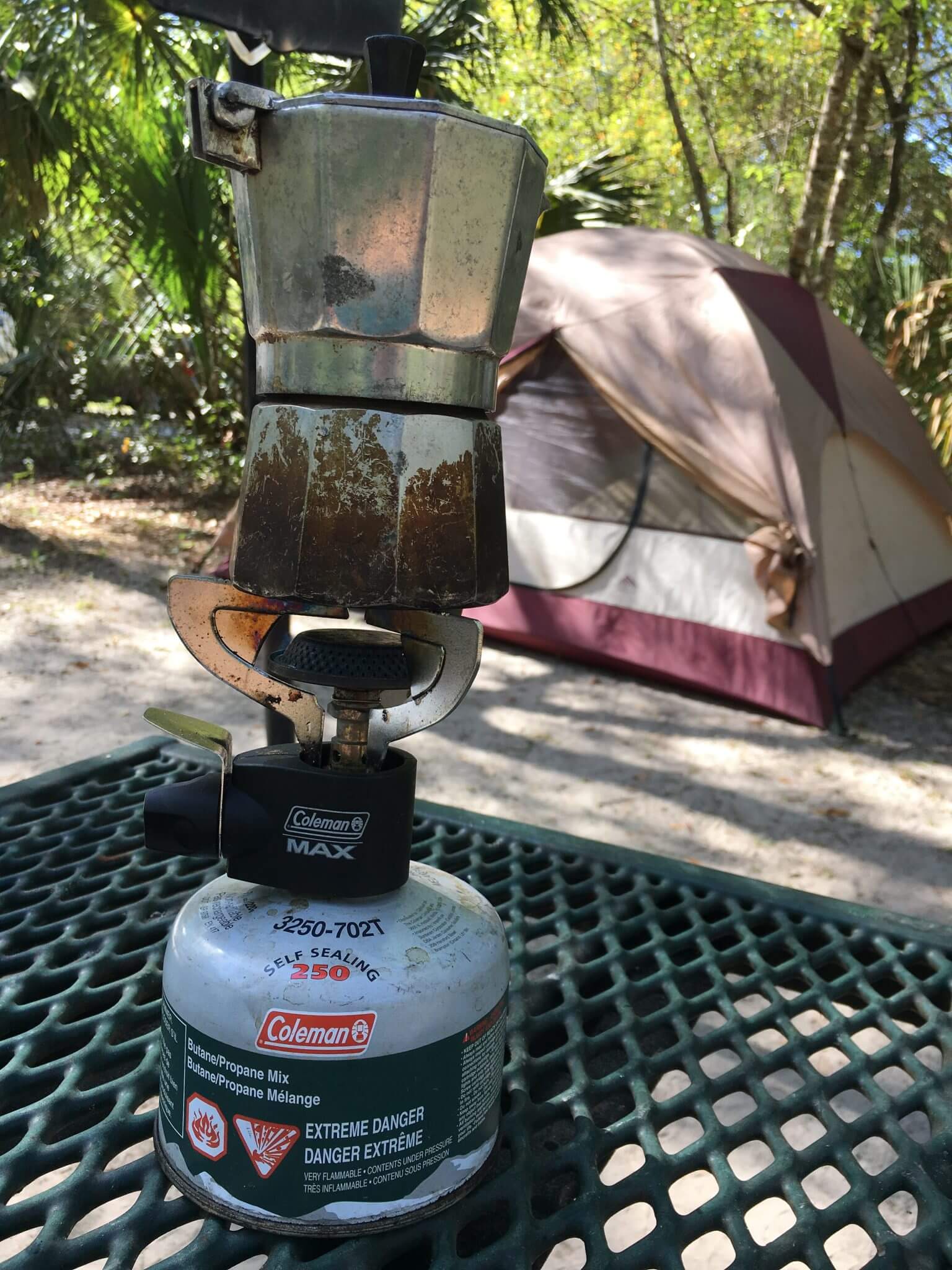 TIP: No matter what gear you bring, make sure to test it out before you leave. Recently, I set up our tent up for the kids in the backyard, and low and behold, we were missing the stakes on a very windy day. Could you imagine being in the middle of nowhere and having to find a place to get stakes for your tent, or finding out one of the poles is broken? No, you would not want to imagine that. Check your gear before you leave.
What Clothes to Pack
With kids, it's a good idea to bring backup.
Extra pants, shirts, shorts, and underwear will come in handy. A dirty child is a happy child. But, you will want to have clean and dry clothes to change into.
Dressing your child in long pants and shirts will help keep sun exposure and bugs at bay.
Don't forget to bring hats, sunglasses, and a great pair of broken-in hiking boots, water shoes, or sneakers.
Picking the Right Campground & Site When Camping with a Toddler

When camping with toddlers or young children, you probably don't want to go back country camping unless you are real survivalist. I know as a novice outdoors person, I want to be fairly close to civilization, in case of an emergency, while still immersing my child in the great outdoors.
Zsofia and her two-year old son chose two different campsites on a bit of a Northern Florida road-trip. The first was camping at Fort Clinch, north of Jacksonville. They took a ferry over to the island, played on the playground, and explored the fort. The second was Alexander Springs in the Ocala National Forest. The big attraction to this campsite is the shallow swimming hole.
Campgrounds like KOA often have a lot of amenities for kids such as playgrounds, pools, and even arcades. If being out in nature is your focus, look into camping in a National Forest or State Park.
Other Tips About Picking The Perfect Campsite
Make sure to get to your campsite well before sundown so that you can set-up and your child can get acclimated.
Pick a campsite near the bathrooms and showers.
Request a campsite away from RVs. There is nothing worse than having a generator going off near your tent.
Research the area you will be camping in, and make sure you fill up on gas, and hit the grocery store before getting to the campsite.
From now on, we will note the nearest hospital or emergency facility, in case our son suffers from a reaction to his food allergies.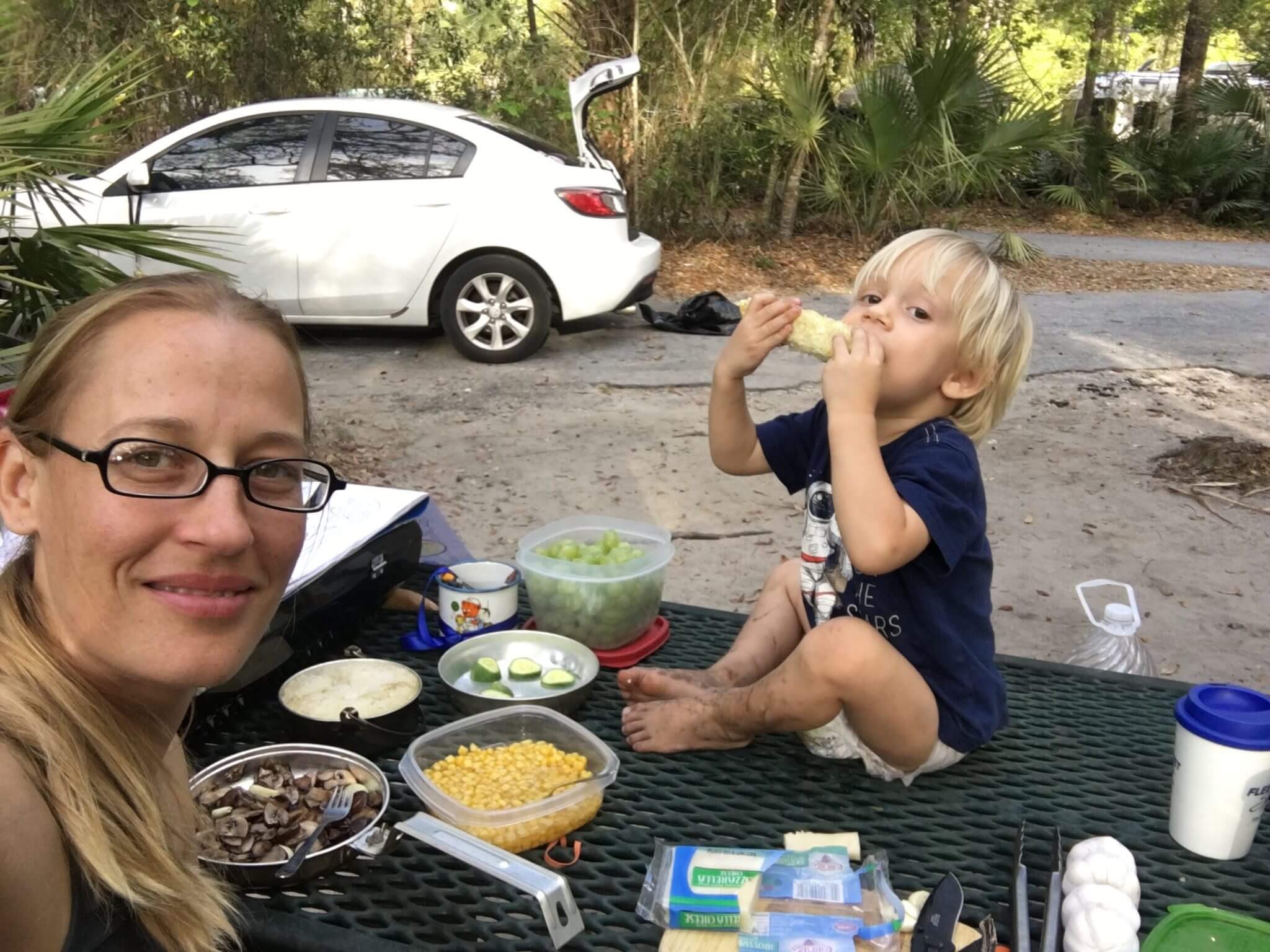 Keep Food Simple
Fill up cooler beforehand with easy food like watermelon, grapes, oranges, finger foods, nuts (if they are not a problem), granola, rice, beans, mushrooms, and corn. Zsofia and her son are vegetarians, so bringing fruits and veggies is a no-brainer.
How to Ensure Safety When Camping With A Toddler
Toddlers can be unpredictable. They are constant explorers. Pushing the lines of independence and needing to be protected by their adult. Zsofia suggests you "set ground-rules", such as, "Mommy always has to see baby, and baby always has to see Mommy". Create a game where when you call your child's name, they respond.
Always know where you are and be aware of your environment. Snakes, alligators, and other wildlife are a reality when you are in nature. Take precaution and be careful.
Give your child a job to keep them busy – like gathering kindling for the fire or helping get a meal ready.

Set rules and boundaries. For instance, "I always need to be able to see you and you always need to be able to see me. Consider making a family code word that signals you child needs to come back toward you.
Entertainment
Nature is the great entertainer for kids. Have you ever seen a child with a stick and dirt. They are usually entertained for hours. Here are a few added things you don't want to forget.
Music or an app that plays white noise or mediation for kids at night.
Sand toys for digging.
A kite.
A book to read at night.
So, at what age is idea for taking your kids camping? The answer, "Whenever a parent is ready to pack and go out into nature with their child," says Zsofia.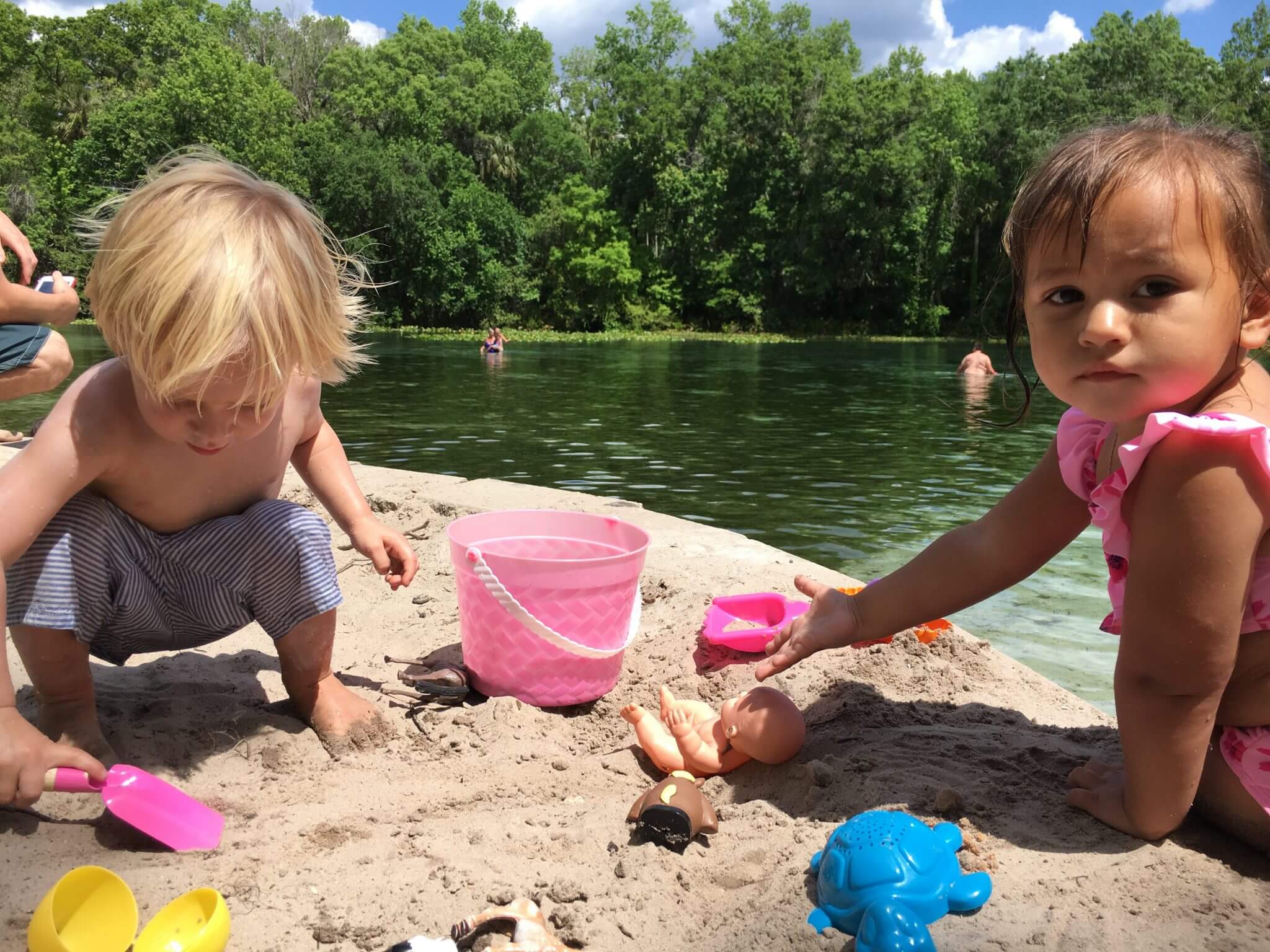 For us at Hunting for Rubies, we have certainly been camping a time or two in my lifetime – in tents, in pop-ups, in RVs, and in cabins. But if you find us camping in the next year, you would probably choose to call it GLAMPING.
Have you been camping with your children? At what age and where? Let us know your best tips in the comments below.
Zsofia Inhauser is a mom of one. Originally from Hungary, she lives in South Florida with her son and husband. She is an ultra-runner, pilot, and an entrepreneur. She started Soft Baby Walking Shoes when her son was 9-months old and started to walk. He hated the restriction of hard shoes, so Soft Baby Walking Shoes was born.
PIN IT!