The end of January is my birthday, and then Logan's is the week after! For his birthday, on my birthday, we threw a Happy Camper Backyard Birthday Party. It was inspired by the camping trip I so long to go on with my family, the National Parks that swell in my heart and that are the true magic in this country, and the fun that sitting around a campfire brings
Logan is two, now, and at 40 lbs, and looking like a 3.5 year old, time is flying. I can barely believe it. While he isn't officially pedaling on a tricycle, he scoots with his feet and keeps up with the big kids as the zoom past him on their scooters. Logan has really started talking and Ruby and Hunter are loving all the parroting he is doing. "He just said HARRY POTTER! He just said Sun-FLOU-er" they excitedly tell me. This kid is just so darn squishy with his baby baritone voice and his a smile that shines the light of the fullest moon.
If I do say so myself, we through an epic backyard birthday party with close to 90 people in attendance. It was so simple, and although I was running around constantly, as all hosts do, this kind of party can be done fairly easily and stress-free.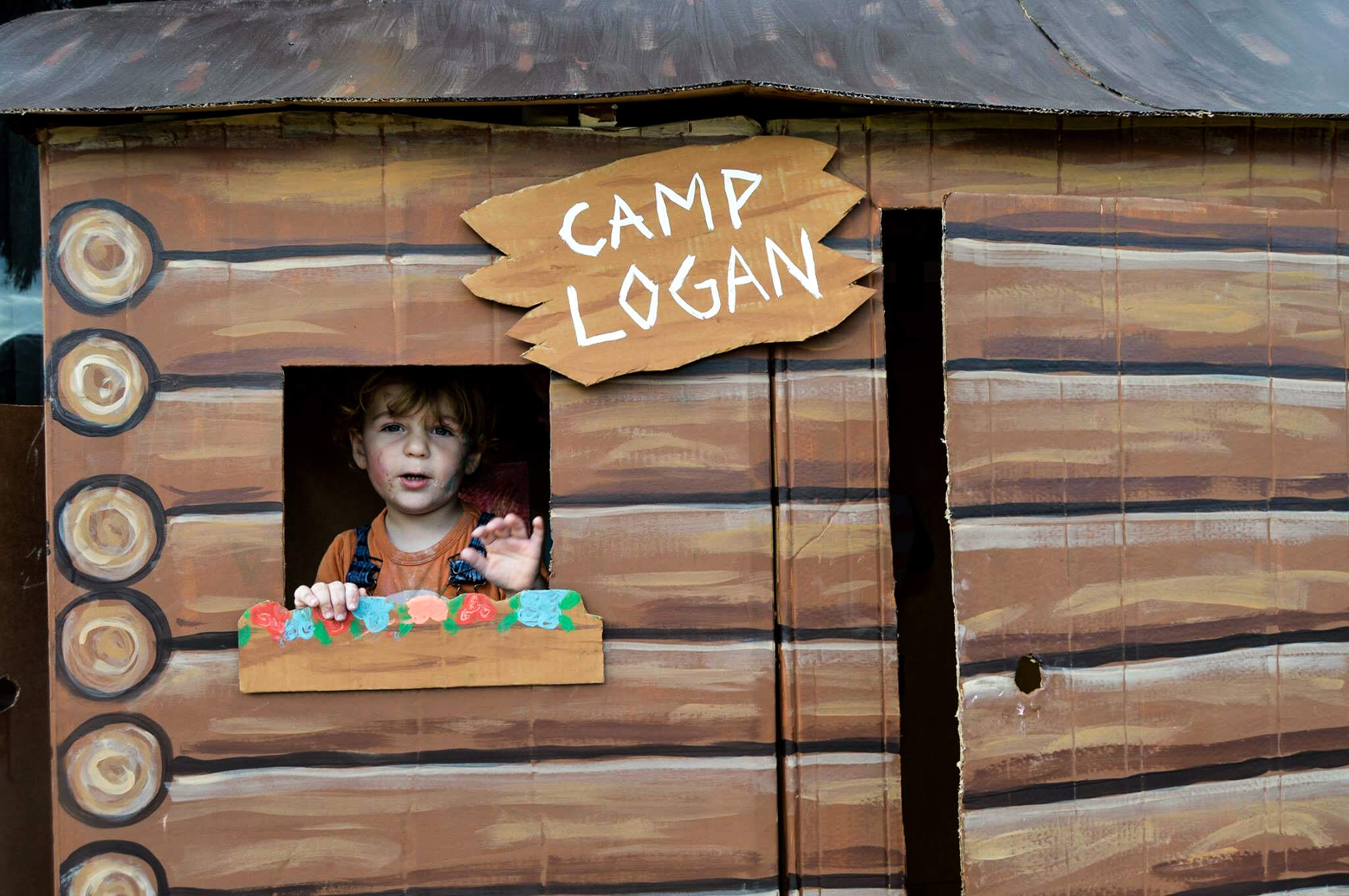 The Activities We Had
Not that much! We have a common area in our backyard that was the perfect space for all these children to run around in. The idea was to let the great outdoors and their imagination be their entertainment. We set up two tents with sleeping bags for them to go "camping" in. My teenage neighbor and her friend were my Park Rangers, and they spent the first hour, or so, doing face-painting for the kids. They transformed the kids into cute woodland creatures like deer, owls, butterflies, and bears. The children played on backyard equipment that was available – a geodome and skate swing. The two additional things we brought in to round out the camping theme were a baby pool that transformed into a Fishing Hole with plastic fish and fishing rods we got at the Dollar Store; and, the most gorgeous log cabin that my wildly talented neighbor made out of two cardboard boxes, called Camp Logan.
We also planned for a little environmentalist scavenger hunt, but honestly, we never even got to it!
Since it was my birthday, on my wish list was a fire pit for our backyard. We put the fire pit to great use and roasted marshmallows and had s'mores by the fire. The kids LOVED it!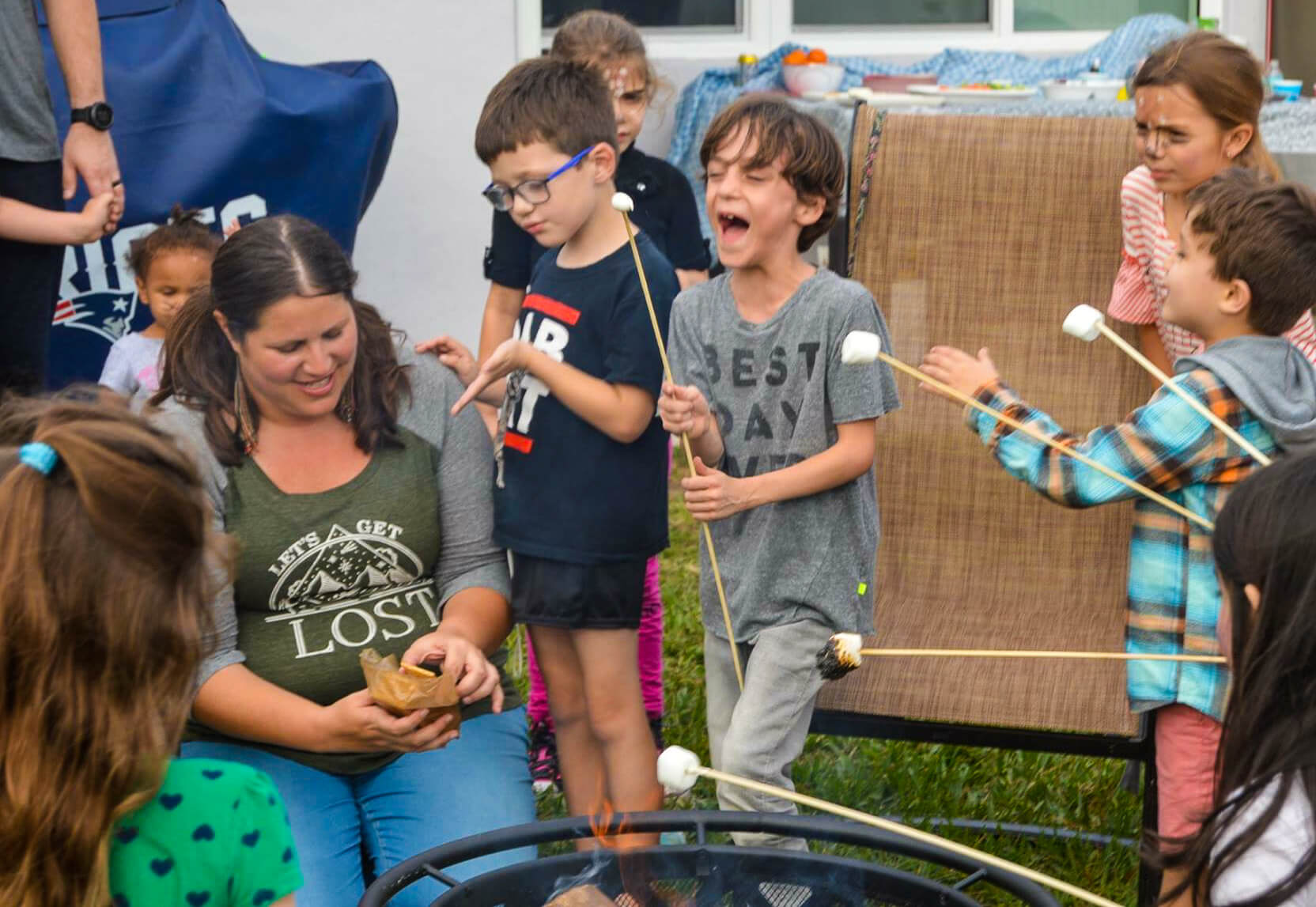 On The Menu
Since Logan has life-threatening food allergies to peanuts, tree nuts, coconut, egg, and garlic – we wanted to be conscientious of the food we served. We purposely chose to host the party between 2-5pm so that food wasn't a huge focus of the party and we could easily have safe food for Logan and other guests with food allergies – but, in turn, this party had A LOT of sugar, which all the kids loved.
A Trail Mix Bar
Snyder's Gluten Free Pretzels
Enjoy Life Mini Chocolate Chips
Raisins
Swedish Fish
Jelly Beans
Rice Chex Cereal
Soft Pretzel Platter from Phlorida Pretzel
Cheese, Salami, and Crackers
Fruit & Veggie Platter
Rice Krispie Trees
S'mores

Sunbutter Chocolate Firewood Cake (Peanut, Tree Nut, & Egg Free Recipe)
For the cake, I used this recipe from Chocolate Covered Katie with my own modification of using sunbutter for the allergy-friendly substitute and then mostly sour cream and bit of cream cheese as substitutions for the fat in the cake because that is what I had in my fridge. At this point, my cake was not vegan.
Since I can't properly follow a recipe, because that is just how I roll, I loved this recipe for the ability to pick the ingredients that we had available and that were safe for us. I like options…very much!
I put the cake batter in three bread pans and baked at 350 degrees. My cake was not quite baked through after the 25 minutes, so I added a few more minutes,and let sit in the refrigerator over night to set completely.
The day of the party I took the cakes out of the bread pans and cut them in halves making 6 different pieces of fire wood.
Frosting – I chose to do a chocolate whipped cream frosting, and followed this recipe.
Ashes – You place several allergy-friendly safe sandwich cookies in a blender or food processor to crush them up. I used 2 Enjoy Life Chocolate Chip Cookies and 2 Soft Baked Double Chocolate Brownie Cookies. They worked just fine, but I think the crunchy versions of Enjoy Life Cookies would work best.
Fire – I used Brach's Cinnamon and Butterscotch hard candies which were sugar-free and not food-allergy safe due to shared lines. I crushed them using a food processor, which I might have broken, and then placed them on a piece of parchment on a baking sheet at 375 degrees until melted. Once the melted hard candy had cooled, we cracked them into big pieces to look like fire.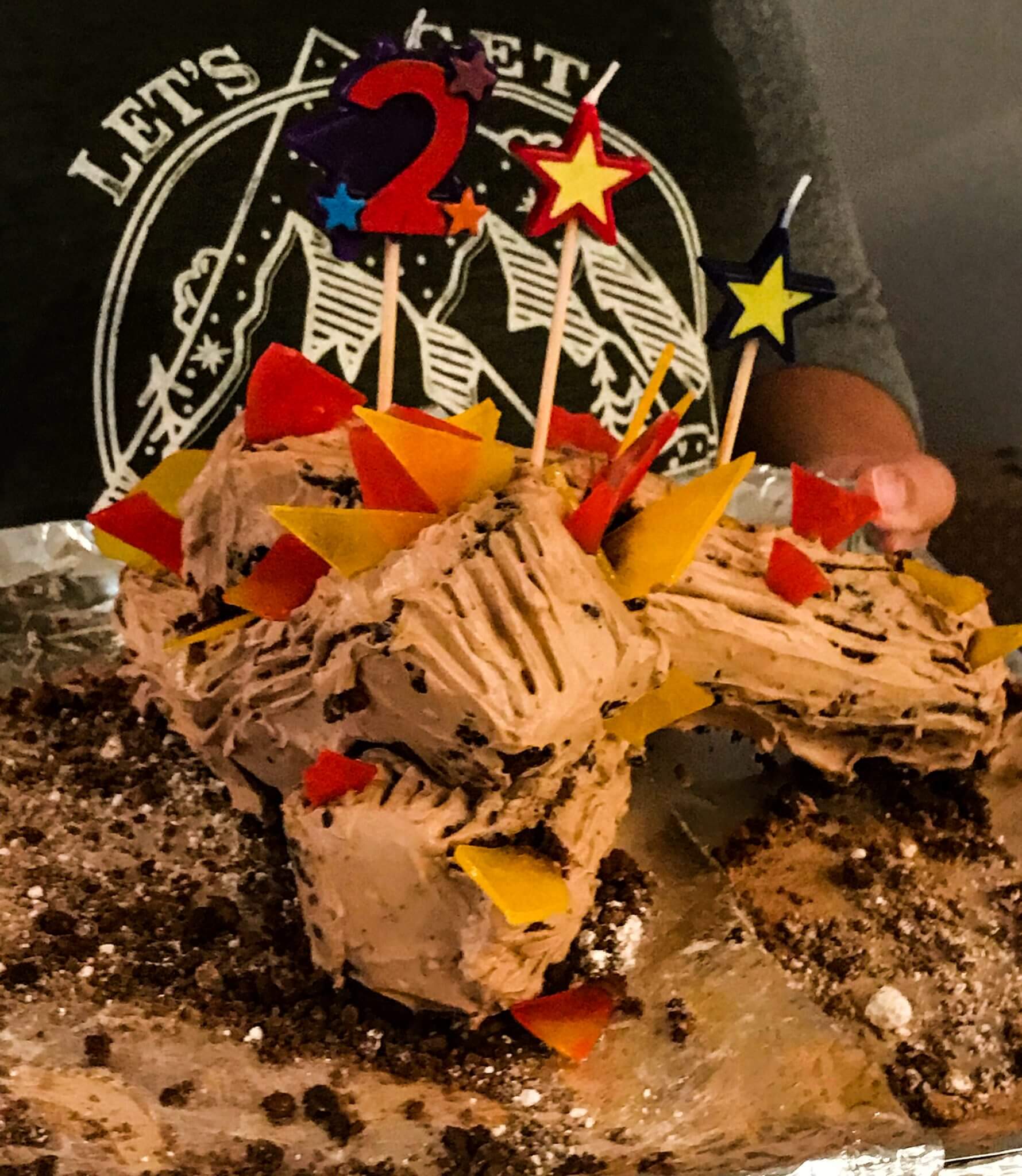 Assembling The Cake
1). Cover a plate or tray with tin foil.
2). Sprinkle the cookie mixture in a pile on tin foil.
3). Arrange the chocolate cake logs on top of the cookie ashes to resemble a campfire.
4). Cover the chocolate cake with your icing. Once all exposed sides are covered with icing, take a fork and drag it across two of the sides of the logs to make it look like bark. Use toothpicks or skewers to keep the logs together, if needed.
5). Arrange the candy pieces on the top of the cake to look like fire, and serve.
* NOTE: I did not serve the candy pieces with the cake once it was cut. I also left one log to the side separately so that it did not touch the candy pieces since they were not safe for people with nut allergies.
What Made The Party So Epic?
I think what made our Happy Camper part so enjoyable was that it was simple and safe. Birthday parties can be super stressful for the parent's planning the party, but also for guests with food allergies.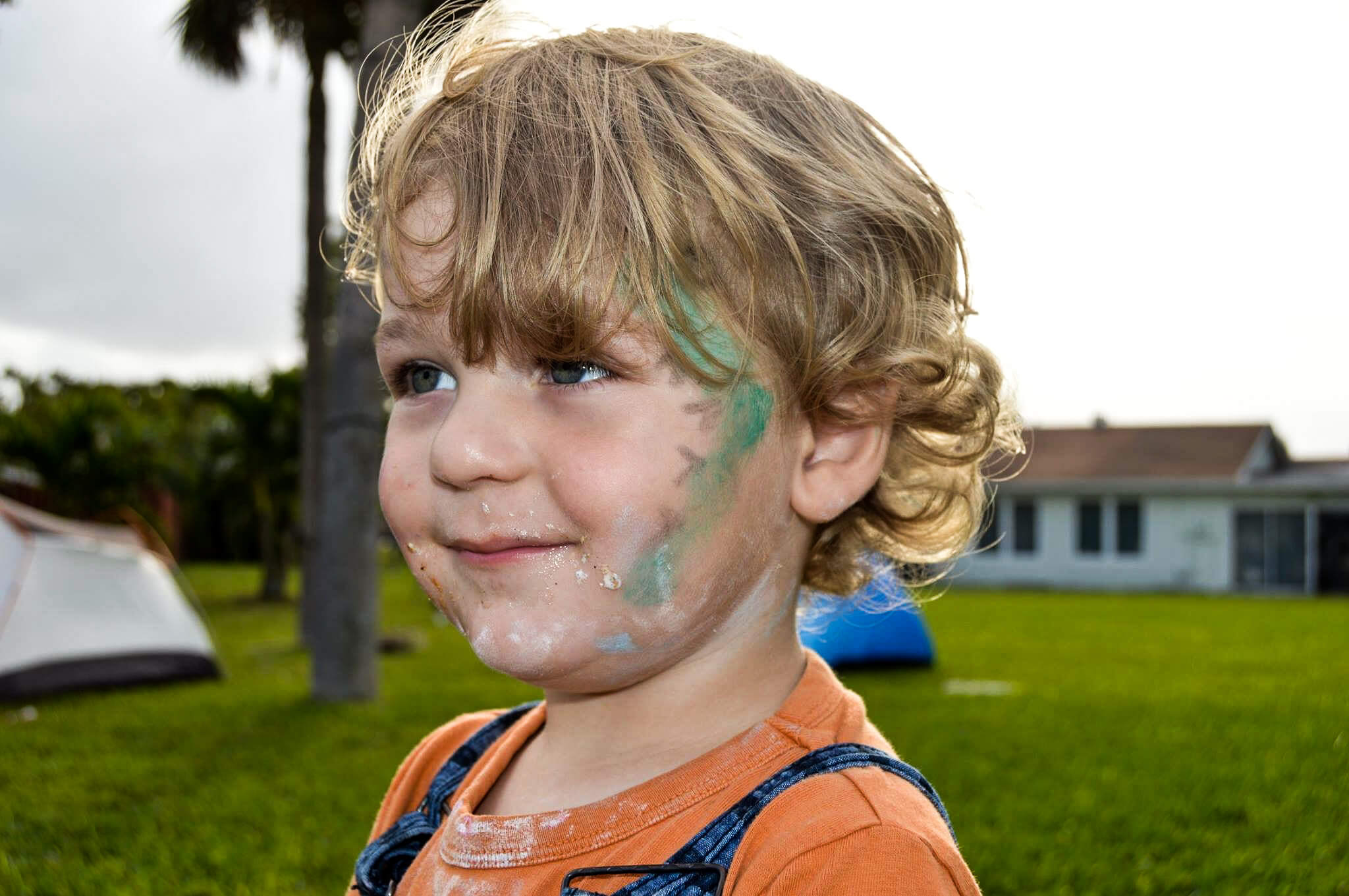 We basically set up a few areas in the backyard for the children to play in, and then left it to them to make their own fun. The parents had a great time chatting and catching up, as we watched the kids play. It was more of a picnic or giant play-date than a party, which I really liked. Keeping it simple for the kids, allowed for a group with a wide age-range to play together in one space. It was awesome to see.
Also, having safe foods for everyone, made everyone feel included and at ease.
When it comes to parties, being a mix between a Pinterest, Amazon, and Dollar Tree Mom really makes for a great, creative, and easy time.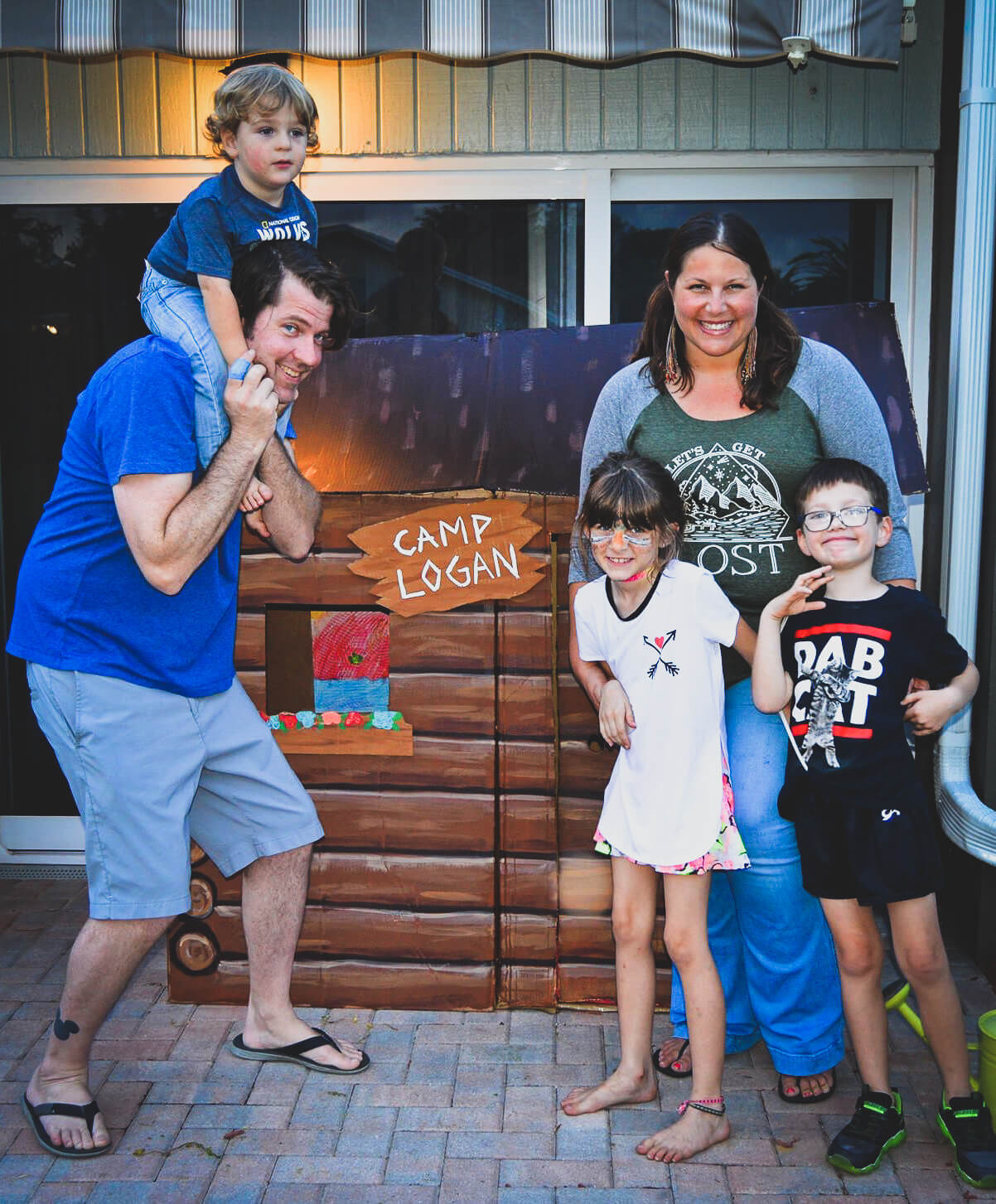 What was the best themed party you have hosted or been to? What made it so great?
PIN IT!