The learning curve of being a new food allergy mom is immense. I'm finding more comfort as we go along, but trial and error can be the difference of life and death. Can we say PRESSURE! There isn't much room for mistake, and preparation is the very key to safety. Where do we even start?
Every person has different degrees of food allergies and different foods can cause different reactions. Like kids, food allergies are completely unpredictable.
Logan was diagnosed with food allergies to peanuts, tree nuts, eggs, and coconut at 16 months old.
Weeks later, we had our very first trip to Universal Studios Orlando to celebrate Ruby's Harry Potter Birthday booked. I wasn't sure how we were going to handle everything, besides bringing some safe snacks with us into the parks, and of course, having at least two of Logan's epinephrine auto-injectors with us at all time. But, what about breakfast, lunch, and dinner? We were staying at Cabana Bay Beach Resort at Universal Studios Orlando. There wasn't a kitchen to cook in, and I would have to figure out what to feed him when eating out almost every meal.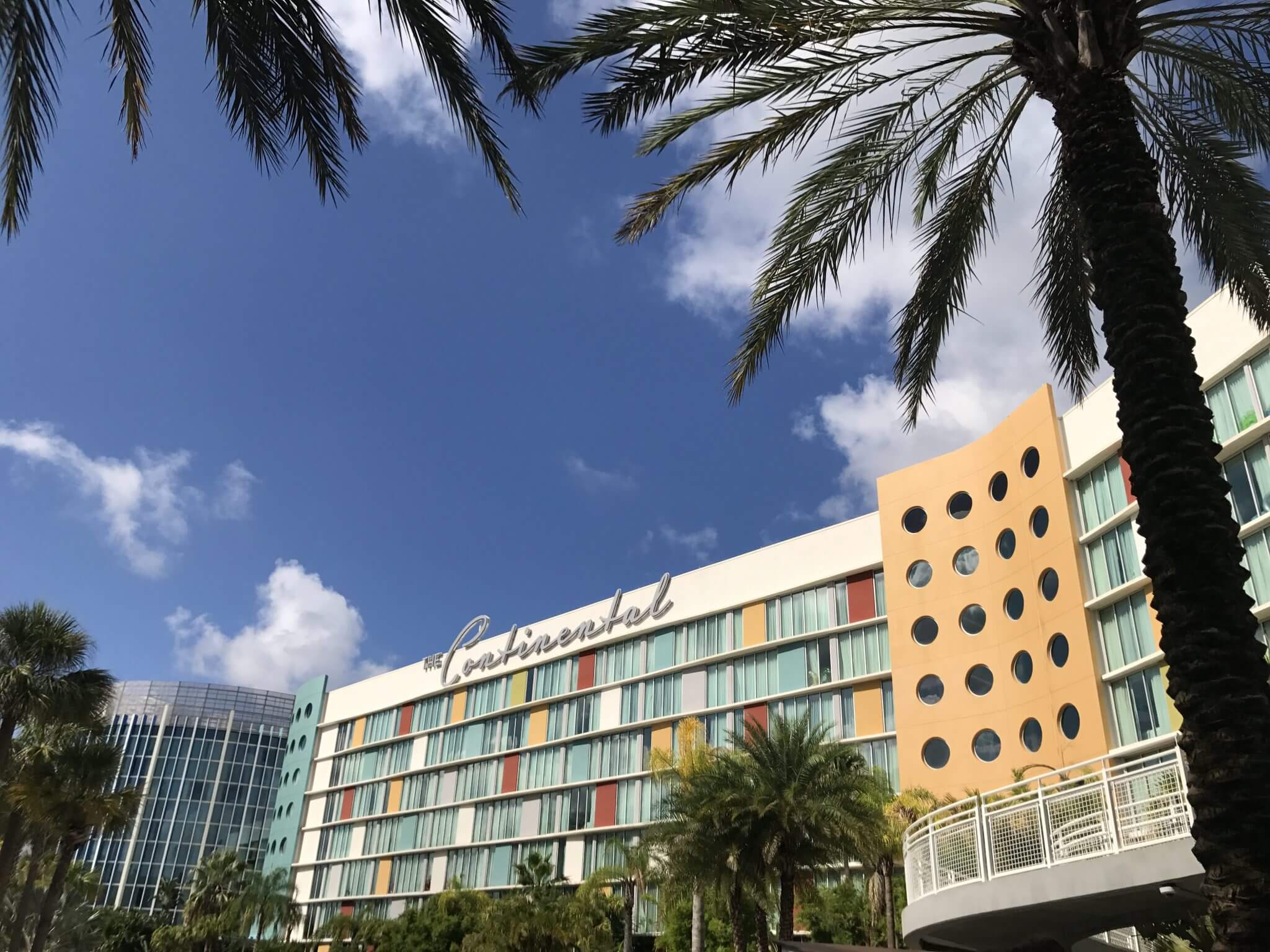 So, how do you prepare for staying safe while traveling with food allergies?
First Step
I emailed the head chef at Universal Studios to ask about safe foods for Logan. He got back to me really quickly with this email:
Hi, in Universal Studios, we have fruit stands in the parks with apples, oranges, grapes, watermelon on them. Also have lemon and strawberry slush carts which will be ok, also have turkey legs on carts that are just smoke plain. We have a full service unit it is Lombard's landing and Finnegan's, we have a chef in each unit have the server bring the chef to the table and he can go over all the things he can do for you.

In Islands of Adventure we have 2 full service units one called Confisco's and one is Mytho's, we have Chefs in both of those units, have server bring Chef to table and he can go over the things he can do for you, we have another walk up unit it is Thunder Falls, we have smoke chicken, smoke pork ribs, and roasted corn on cob and roasted potatoes with fresh herbs and salt and pepper, also have French fries all natural cooked in soy blend oil that is the only thing cooked in those fryers too. I will also say no desserts at all from any of the restaurants too.

We also have three broomsticks which have smoked chicken and smoked pork ribs, roasted corn on cob, baked potatoes, roasted potatoes with onions, garlic, salt and pepper, and fresh herbs and some salads too.

The butterbeer is nut free. *Note: While Universal advised that butterbeer is nut free, a reader has indicated that the foam they put on the butterbeer is made in a facility that processes tree nuts. I have confirmed with Universal Orlando that the foam is made in a facility that processes peanuts and tree nuts, but the foam is processed in a nut free room, on nut free lines. There are trace amounts of dairy in butterbeer. I do believe that the Butterbeer at Universal Hollywood is processed differently and may not be safe for people with nut allergies. I am working on confirming this information.


Pretzels and popcorn are ok too.

The soft serve is ok at florean ice cream shop, not the hard pack ice cream.

At mels diner burger is good, chicken fingers good, chicken sandwich good.

If you need any more information or help feel free to give me a call.

Chef Bob.
Okay, I felt like this was a good base for us to start with.
Step Two – Get To Baking!
Baked goods, and especially desserts, are the hardest things to get around for us when your Food Allergies are nuts and eggs. The good news is that you can transform almost any recipe into a safe food for yourself or you loved one.
We love these Spinach Banana Muffins and Pumpkin Breakfast Cookies for when we are on the road.
Step Three – Stock up on your favorite safe snacks to bring into the parks.
These items are easy to carry with you, semi-nutritional, and my non-food allergies children like them as well. WIN-WIN!
Made Good
Enjoy Life
Pretzels & Chips
Fruit
Pouches
Step Four – Transporting your Safe Foods

We drive to most of our destinations in the United States. Taking a cooler of food is not a problem. If you are flying to a place like Orlando, you can easily have groceries delivered to your hotel from a local services like Garden Grocers, a company like SHIPT, or Amazon.
Step Five – Eating Out with Food Allergies, Talking to your Servers and Chefs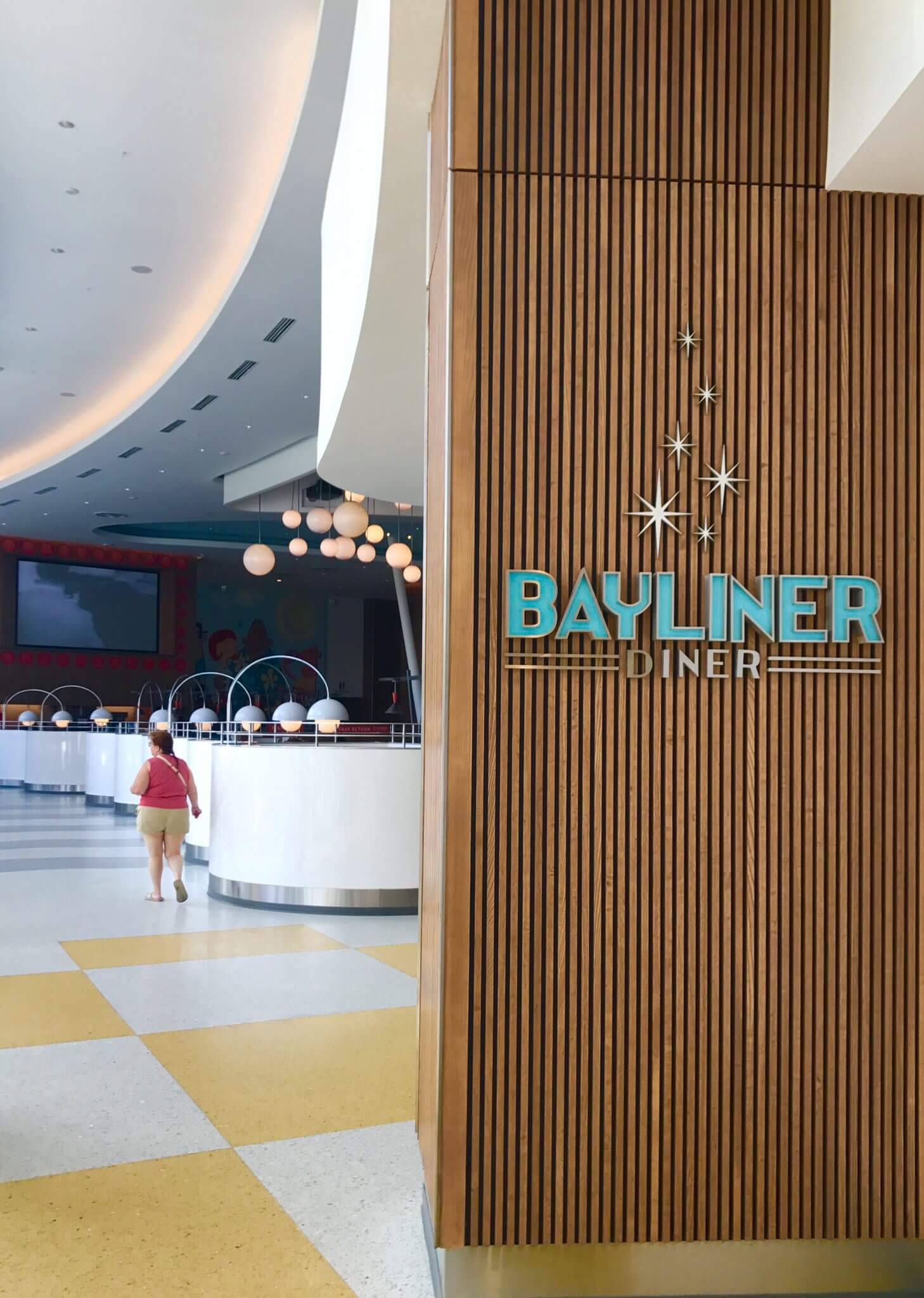 We stayed at the Cabana Bay Beach Resort when we were at Universal Florida, and ate quite a few meals at the Bayliner Diner – their cafeteria style dining hall. Plain pasta with butter and a side of fruit or veg was what Logan got for many meals. He ate yogurt and a breakfast muffins or cookie that I brought most mornings.
At places like the Bayliner Diner and most quick service restaurants at Universal Studios and other Theme Parks, there is a binder of the ingredients of every meal they serve. At sit-down restaurants, your server should let the chef know of your allergy and hopefully the chef will come out and talk with your table and go over the menu.

My MAJOR Mom Fail!
On our last night at Universal we decided to eat out in CityWalk, the big outdoor shopping mall at the entrance of Universal Studios and Universal Orlando.
We decided on Mexican. Antojitos was lively with a mariachi band playing among the mix of industrial and traditional decor that filled the big space. Over the loud music, I immediately explained that our toddler had nut and egg allergies, and asked what kind of oils they use in their fryers. It wasn't peanut, great! He would stick with something simple like a quesadilla and some tortilla chips and salsa. That is safe enough, right? RIGHT? Is it? I am not even sure in retrospect. Where were those tortillas made from? What kind of facility? In-house? I should have asked more questions, but really didn't know. I thought declaring our allergies would suffice.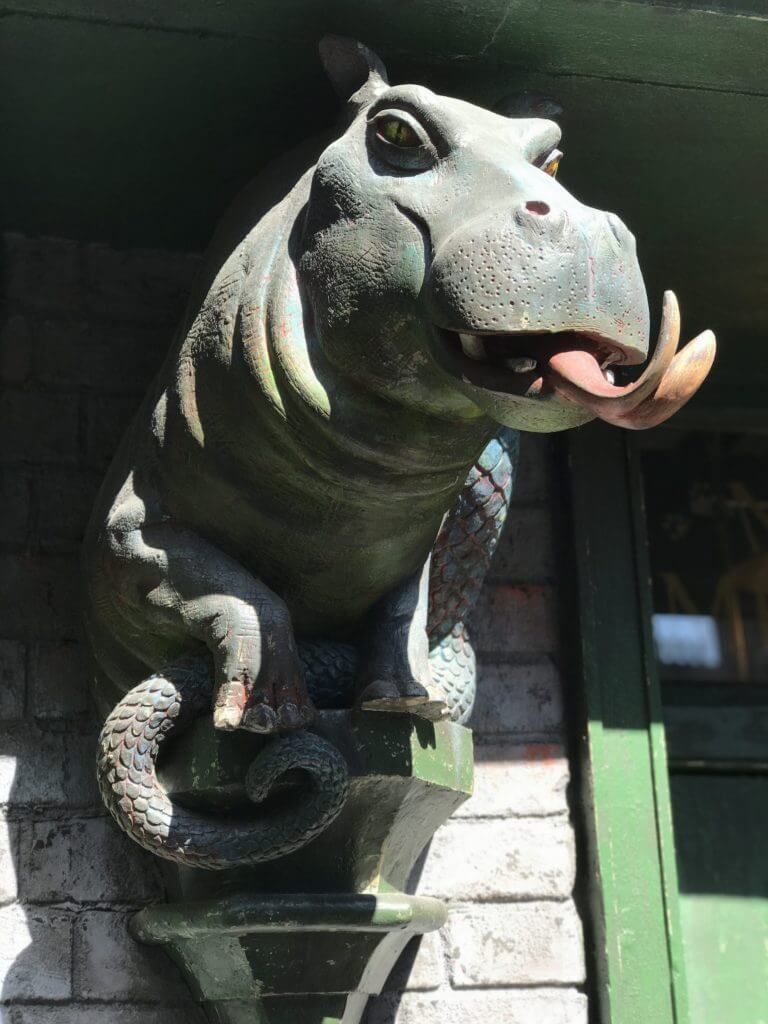 The meal I ordered Logan was fine. A quesadilla and chips, easy. The kid devoured the spicy salsa. I was surprised.
We were all enjoying our meals and a successful Harry Potter Birthday surprise at Universal for Ruby. I was LOVING my meal and basically making love to this scrumptious sauce on my plate. What was it? It was so good!
I was not going to eat my rice and beans, and haphazardly fed them to Logan using my fork only to see him wince and scream at first bite. Were the beans spicy? Something was off. His reaction and scream were not one I had heard before. I was on guard and watched and waited to see what the deal was. He seemed fine, thankfully.
As soon as the waiter came by I asked him for some more water, the check, and "oh yeah, what was that amazing sauce on my plate?" His response had me pounding my head on the table, "Mole Blanco!" It was a white chocolate mole sauce. While delicious, not exactly a nut allergy friendly dish.
How stupid could I be? Nut dish, to my fork, to my mouth, to food I think is safe for my food allergic baby, into his mouth = cross contamination at its finest.
I was so lucky that Logan's reaction was merely a few hives around his mouth that disappeared quite quickly. The self-preservation that so many people with food allergies have, was on point for him. People with food allergies will often say that their allergy is repulsive and kids especially will describe their mouths as spicy when they eat one of their allergens. We were lucky, if it was the mole sauce or not, it wasn't enough to cause Logan to go into anaphylactic shock. That is not to say though, I was not doing my best to protect him.
My Major Take-Aways and What I Have Learned So Far
Start off with saying that you or your child has a LIFE-THREATENING Food Allergy. The times I have used that phrase, life threatening, my server takes me more seriously and can decipher from dietary restrictions and a allergy.
A good restaurant is going to have a manager or chef come out to talk to you. Feel free to request that they do.
Many people use allergy cards that you can purchase or print and send them back with your order. These can be especially helpful when traveling in a country that does not speak your native language.
Call or visit a restaurant in advance, on off hours, and talk to them about how they handle food and allergens.
Always have your two epinephrine auto-injectors with you.
Overall, I think Universal did a pretty good job handling food allergies. I could have been more careful with Logan and asked a few more questions, and made things a little more obvious. But, I was learning and getting used to this whole world. I am much more confident and versed on handling food allergies a this point, and most importantly, I am not afraid or embarrassed to ask the questions that need to be answered.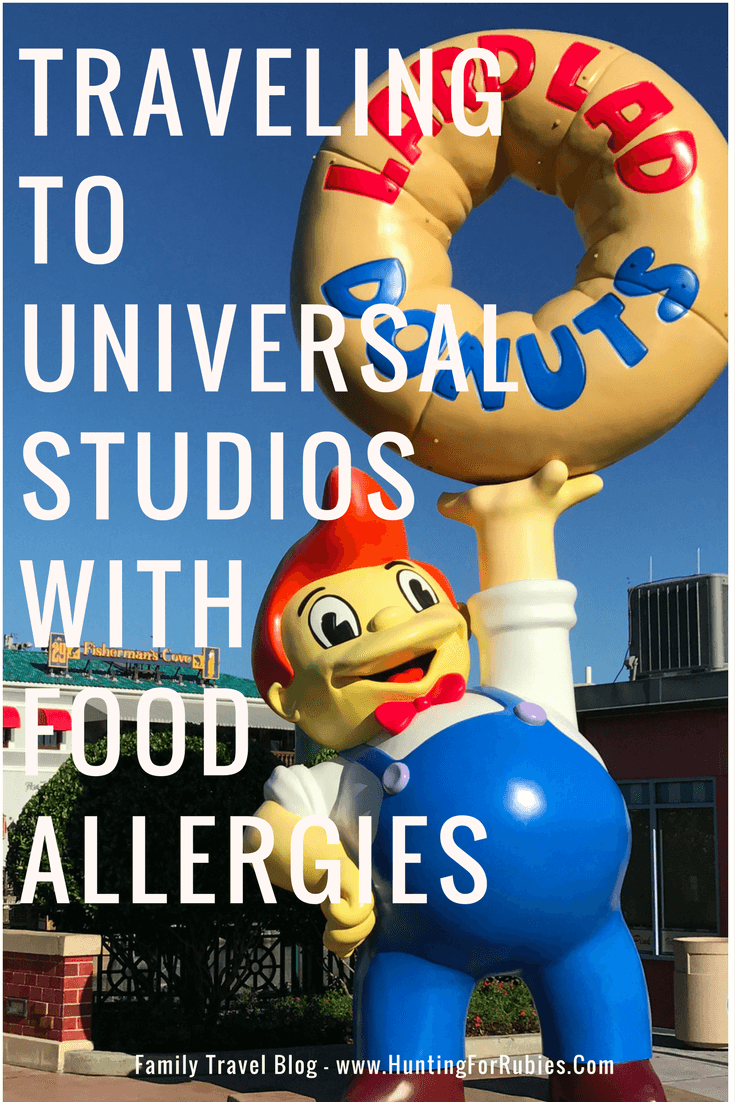 What are your thoughts? Have you gone traveling with food allergies? What are your best tips?