A tribute to my friend Nathan Winters, small moments in his big life that impacted me greatly. Xo
Sometimes you meet people, and you know that they are special ones. Nathan and I were pretty much instant friends. He was a strong personality – opinionated, determined, inquisitive, creative, and an adventurer, not to mention a philosopher too. He had mottos like "Chop wood every day" and "Take the Left Turns", and I loved him as so many other people did.
I met Nathan through my roommate, Sloane. He came in for a surprise visit, but she had a previous commitment that would take her out of town for the weekend. And, here I was in my Santa Monica apartment with someone I only knew from stories, and he says to me, " so do you want to go camping in Sequoia National Park this weekend?
I didn't have plans, as I was still relatively new to Los Angeles, but I am usually up for anything, I agreed. And, off we went in his SUV, with a tent, sleeping bags, and a cooler full of frozen bananas, beef jerky, and instant coffee. I am not the most awesome camper, so I am glad he had the essentials!
Honky Tonks
Just two hours outside of L.A. we stopped in Bakersfield to cruise down Merle Haggard Drive and Buck Owens Blvd. Nathan was a big Country Music fan. At first sight, there didn't seem much for us to see except the local Denny's, but that was only just an informational stop. He parked his truck in the lot, walked in, and instead of being seated, he asked the hostess, a local, where the best place is to grab a beer and listen to live music. "You mean Trouts?", she replied. Yes, we meant Trouts.
This was 2006, and we didn't have the internet in our pocket back then. Stopping into a local establishment and asking for recommendations and directions was a great way to uncover a gem while on the road. Nathan seemed to take that trick everywhere he went.
We drove to the other side of Bakersfield, California and parked on a small historic street that housed a few bars. We walked into the well-known Honky Tonk that helped define the Bakersfield Sound that Merle and Buck were known for. After grabbing a Budweiser at the bar, we pulled up a seat near the dance floor. It was between bands, some country music played over the sound system, and at the moment it felt like we were the first ones to the party.  We chatted quietly as we got to know each other better.
In a matter of moments, everything changed to make this stop-over well worth it. A singer came up to the microphone, and in his country drawl, he asked: "Who here wants to do a Tush-Push?" Well, everyone wanted to do a Tush-Push!
I get goosebumps thinking about the squeals and excitement that entered the room. Women and men ran to that dance floor, filed up and as the music began, Nathan and I watched in awe of the synchronized dancing to the sound of a steel guitar in front of us. The party had started, and although we were wallflowers, it was a hell of a good time!
It was getting late and we still had miles to go to set up camp at Sequoia & Kings Canyon National Park, so we left shortly after arriving.
Redwoods
That morning, we awoke amongst the old and wise and towering redwoods. We set off on a 11 mile hike, discussing our dreams and thoughts on life, and L.A.. As the day was coming to an end and we began to tire, our trail seemed less defined than it had in other spots. We had been walking for a long while and we both thought that we were lost, and suddenly we were back to the trail head. Going back to camp, we made a fire and enjoyed one of those great, simple meals after a long day outside.
The next day we traveled down to Kings Canyon and splashed around in the water before leaving to go back to Los Angeles. Nathan did headstands in the water as the sun reflected from it. It was a really lovely day.
Railroaders
Years later Nathan had moved back to L.A. and then we both moved away. Before transitioning into the next chapter of his life, Nathan decided he was going to bike across the country and visit the farming communities along the way. Upon conception of this idea, Nathan wasn't an avid bicyclist and wasn't a farmer, just yet. He set up FollowNathan.org and raised money for The Nature Conservancy. He was a brave and outrageous kind of guy, and when he put his mind to something, he made it happen, someway, somehow.
I was on my way to New York City, so I thought, but needed to spend some time having a major experience, as well.  I spent that same summer on various trips across the country, visiting National Parks, friends, and attractions. Nathan, Sloane, and I had a friendly competition to visit all 50  States in the U.S. before the other. So at one point that same summer, as I am zig-zagging across the country, I found myself within a 350-mile vicinity of where Nathan was.
So from camping in The Badlands to a stop at  Wall Drugs, Mount Rushmore, Theodore Roosevelt National Park, and through a hellacious lightning storm in one day, I made it up to meet  Nathan in a small Railroading Town called Forsyth, Montana – just to have a whiskey with an old friend.
I feel like I was always moseying somewhere when I was with Nathan. As we saddled up to the bar of a 100-year-old building and shot the bull with the locals, Nathan told us tales of his trip, thus far. He was more than halfway done.
He recalled the colorful characters he met along the way, the amazing farms that he had visited that inspired him to start his own. We talked about the general hardships of his journey across the Country on a bike. When people heard what he was doing, they were immediately drawn to his story. This was an unusual feat. They would usually buy him a drink, or a meal, and even offer him a place to lay his head, but almost always stop and talk a while about life.
We met two young guys that night that worked on the railroads in Montana. They told us about their jobs. Long hours on the rails. We went down by the river and made a bonfire with them. Hung out to the wee hours of the night, and went back to the Howdy Hotel in Downtown Forsyth, where a sizable room cost us about $40.
The next morning we had breakfast in the 24-hour cafe that services the 24-hour rail stop just across the street, (something I will always remember about Nathan is that he was a breakfast kind of guy). We walked around the town for a bit of the morning and then we said our goodbyes before we both made our way West.
Our Last Visit
Nathan would eventually finish his bike trip in Bellingham, Washington a month or so after out stop in Montana. We both found ourselves in New England that same year, me in New Hampshire and him in Vermont.
This would be the last time I saw Nathan for a quick visit to Vermont. We enjoyed local and homemade food. We baked bread and made Maple Peanut Butter Sandwiches. We went to the local Vermont breweries. And, went hiking through the snow with his trusted companion Chaya, his husky. We sat by the fire and talked about the book that he was writing about his Bike Journey.
In the coming years, I got married and started a family. Nathan started a farm. We moved to Florida, and Nathan fell in love with a strong, smart, funny, and lovely lady who joined him in his passion for farming. They started Hill Hollow Farm on her families land, in Upstate New York, and started a family, as well.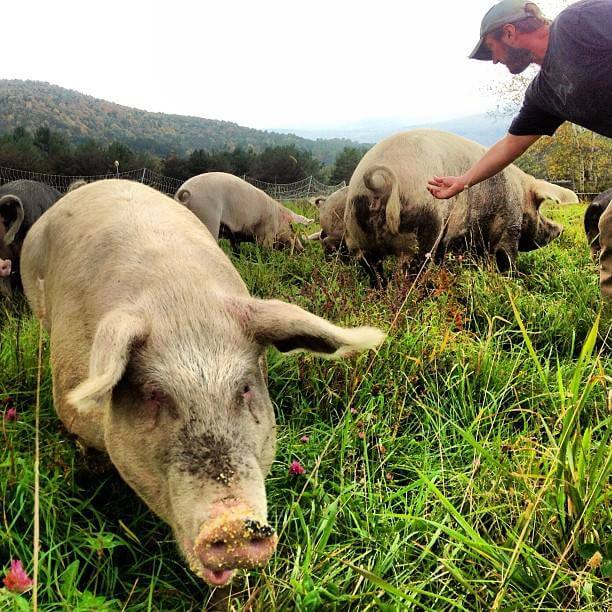 Nathan's Legacy
Nathan passed away from a fluke ATV accident that happened a year ago today. I was privileged to attend his funeral with Sloane and her family, and visit Hill Hollow Farm and meet his family for the first time.
Nathan is buried atop of Hill Hollow where he can look down on his girls and beloved pigs. His wife, Eliza has done a tremendous job learning and taking over the responsibilities that were primarily Nathan's while raising their two daughters.
Eliza is keeping Nathan's spirit, passion, and love alive with their family, and continuing on as a farmer, and supporter and supplier of local food – something that fueled Nathan's soul in the last years of his life.
Nathan, you are missed every day! You were taken to soon, but I am so grateful I was able to know and spend the time I had with you. Sending love to your family and those that were most dear to you. Love you man!
*Here is a great tribute to Nathan Winters that was written in Grit Magazine last summer, which focuses on his love for farming, community, and local food.