There are a lot of options when it comes to booking a hotel at Disney World. Do you stay on property or off? Is it worth it to book a hotel on the monorail line? Which value hotel at Disney World is the best? While our family has not stayed at every Walt Disney World Property (there are a lot), I have stayed at a number of them in my thirty something years of going to Disney World.
When it comes to hotels at Disney World, theme matters most to me. I want to feel like I am taken into one of the magical worlds of Disney, and not just staying at generic hotel. The second most important factor is space. When I am traveling with my family of five, I don't mind a small room. But when it comes to bringing in the grandparents or other extended family or friends, its nice to be under one roof – but then we need a lot of space!
Our Favorite Hotels at Disney World Per Category
Value Resort Hotels
I will be honest, we mostly stay in the value resort hotels because we don't spend that much time in the rooms. We also go to Disney World, on average, once or twice a year.We are Florida residents and it is hard not to take advantage of the deals they give us.
Art of Animation is our absolute favorite value hotel at Disney. It is the newest of the Value Resorts. The rooms at Art of Animation feature the Lion King, Little Mermaid, Nemo and Friends, and Cars. Walking around Radiator Springs and seeing all your favorite characters is pretty rad, especially if you and your kids are big fans of the movie.
Another option I like about Art of Animation are the Family Suites. If you have a big family or are traveling with the Grandparents, you might consider a Family Suite, as they sleep 6.
Alternative Value Hotel at Disney
Art of Animation is the most costly of the 5 Value Resorts. If its sold out or more expensive than we want to pay, Pop Century is our next option for value hotels at Disney World.
Moderate
The Cabins at Disney's Fort Wilderness Resort are the more expensive of the Moderate Resorts, but with the added amenities – a great option. First, the Cabins sleep 6 people, and include a full kitchen, living area, porch, and outdoor grill. I find that we save money on things like breakfast, coffee, and snacks when we have the option to make a pot of coffee in the morning or a late night grilled cheese sandwich in the room.
The second thing I love about the Cabins are not the Cabins themselves. It's Fort Wilderness. Have you ever been camping and met your camping neighbors? Everyone seems so happy and friendly, right? Well, Fort Wilderness is a campground and in my experience, the people who stay there in their tents, campers, RV's, and in the cabins are ready to talk you up and share in the joy that is Disney World.
The buffet and bar at the Trails End Restaurant are tasty. The Hoop-Dee-Doo Musical Review is a hoot. We have never been able to get reservations to Mickey's Backyard BBQ, but I have heard it is great.
Beyond, dinner options, there are a lot of activities on the property that are free, like checkers, a playground, and the Chip N' Dale's Campfire Sing-a-long. Plus, you can rent golf carts for the day, bikes, take a carriage ride, archery, horseback riding, among other things, for a fee.
Fort Wilderness is a convenient boat ride to the Magic Kingdom, with a stop at the Contemporary Resort – and then you can easily hop on the monorail, too.
Alternative Moderate Hotel at Disney
For a more traditional hotel rooms, you might try Port Orléans. The standard rooms accommodate five family members with a pull down single bed. There is a great pool at the Riverside property. We also enjoyed riding the boats to Disney Springs.
Deluxe Resort Hotels
For this category, stay at a hotel at Disney on the monorail line for the convenience and ease of getting around the parks. Using the monorail is a simple way to get to the Magic Kingdom and Epcot.
For me, I love the Disney's Polynesian Village. It's pretty cool to see the monorail drive through the main building of the Contemporary Resort; and that its directly across from the Magic Kingdom. The Grand Floridian is gorgeous and makes me want to go to high tea. And, I would gladly to stay at any of these hotels at Disney World, don't get me wrong.
But, the Polynesian has a better theme in my opinion. Walking through the property at night with the sounds of the waterfall rushing, tiki torches lit, lush greenery and flowers, and birds chirping make me feel as if I am away from Orlando, Florida and in Hawaii.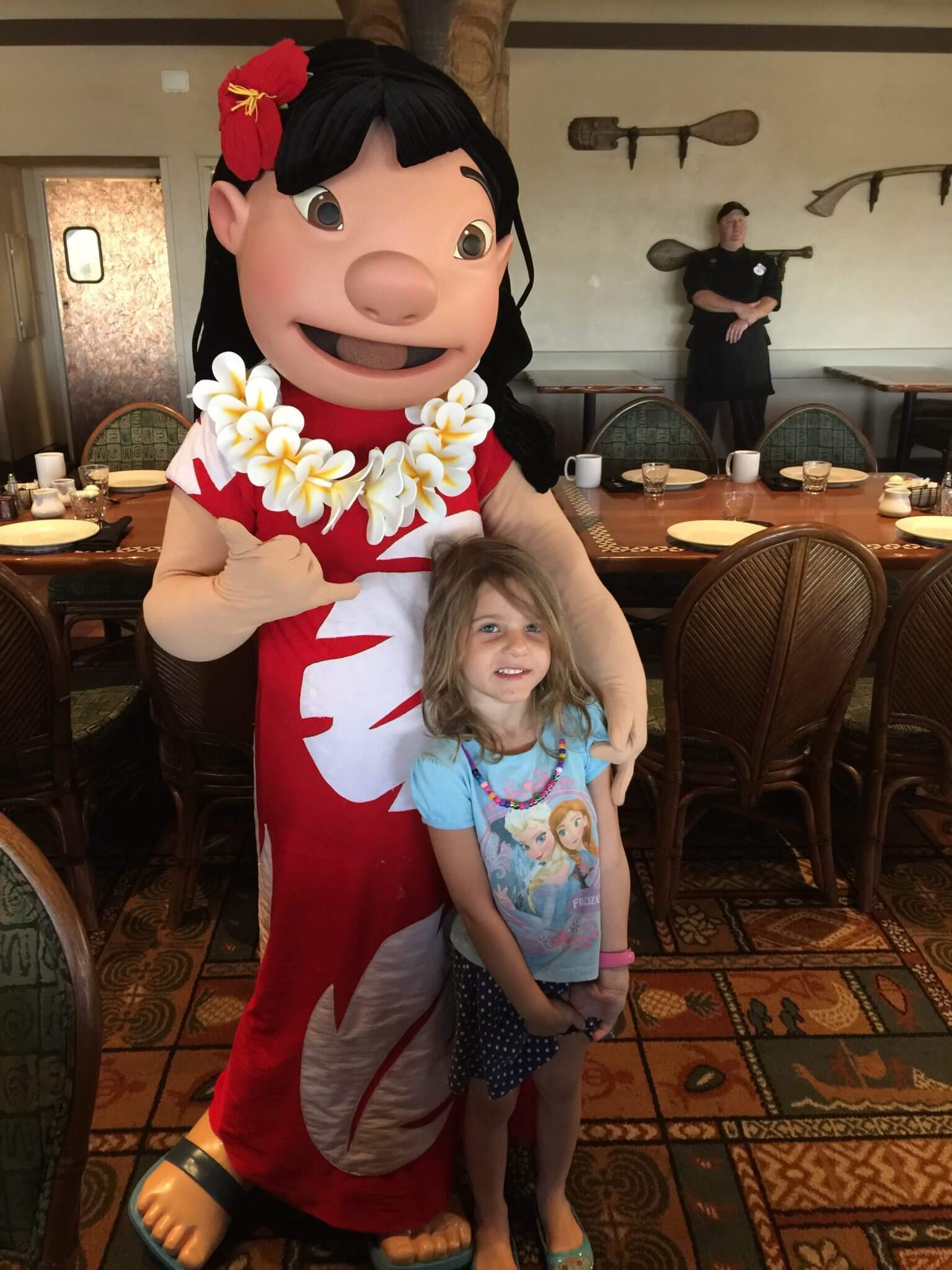 I also love the restaurants at the Disney's Polynesian Village. Ohana is one of the best character breakfasts around. The food is good, and it is nice to eat family style. The juice and pineapple breakfast bread is a fan favorite. Hunter and Ruby adored Lilo & Stitch when they were younger, so we frequented often. Another great option for dining is Kona Cafe. Even when not staying at the Polynesian, we have made dining reservations at Kona Cafe. It's easy to get there by the monorail. Don't miss out on the Tonga Toast for breakfast.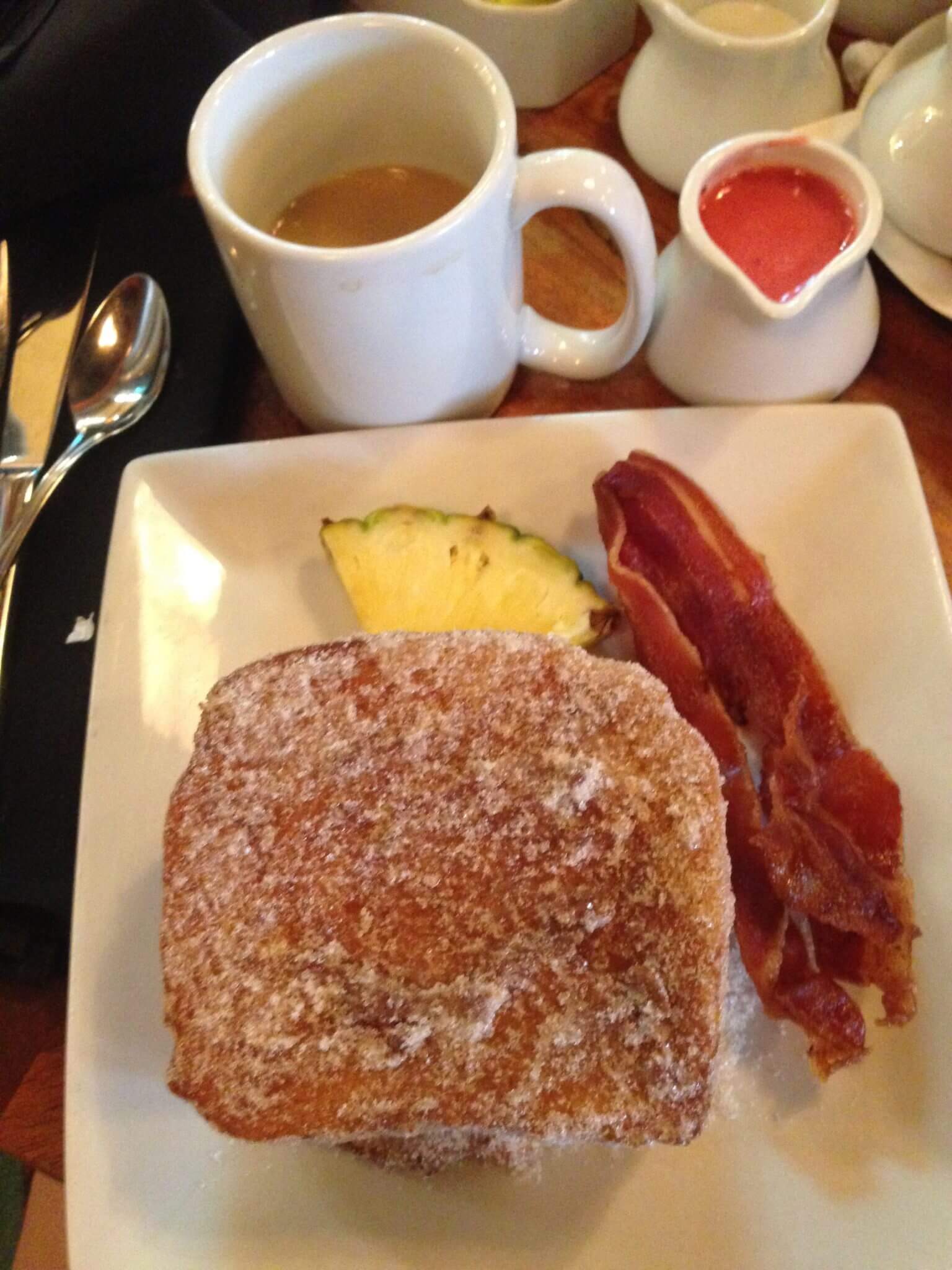 I haven't actually stayed at Disney's Polynesian Resort since I was in High School. But, we have frequented the property for meals in recent years and taken note of many of the refurbishment.
Alternative Deluxe Hotel at Disney
Next up, I have my eye on staying at Disney's Boardwalk Inn. It has a similar style to the Grand Floridian, but for less money. And, I love the proximity to The World Showcase in Epcot. Did you know you can enter into the park from France? And, you have access to the Boardwalk in your front yard. I really enjoy the boat system to both Epcot and Hollywood Studios from that side of Disney World.
Deluxe Resort Villas
Animal Kingdom Lodge – Kidani Village is my ultimate hotel at Disney World. The Deluxe Villa rooms are usually used as part of the Disney Vacation Club. But, they are often available to use as a regular hotel guest. We stayed at Kidani Village for a week, one of the years that my husband ran in the runDisney Marathon. My sister and niece, my mother, and aunt all came to cheer him on. We had 8 people in a two bedroom condo with a full kitchen. It worked out really nicely because we were upgraded to a Safari View room, which meant waking up to giraffe and zebra every morning. It was magnificent.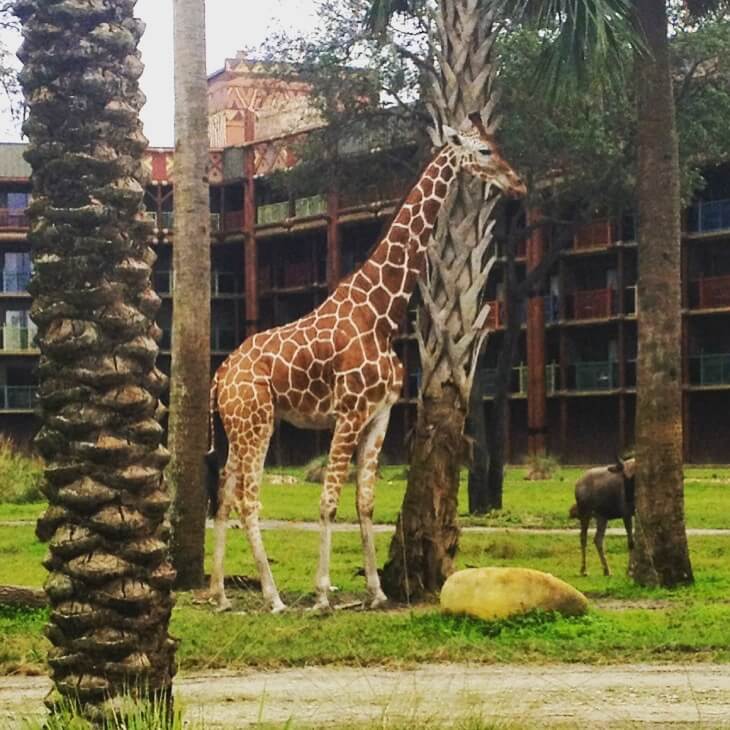 I loved the decor of the entire property. The food at Sanaa is one of my favorite dining experiences I have had Walt Disney World.
This property is a little off the beaten path, as its near the Animal Kingdom Park. I would mainly recommend the Animal Kingdom Lodge – Kidani Village if you are staying at Disney World for longer than four days and planning to really enjoy the property. Kidani Village has a great pool and splash park for all.
Off Site
We usually do not stay off-site at Disney World. My husband likes to take advantage of the Extra Magic Hours Disney offers for those who stay on property. We also tend to drive to certain parks, and don't like to incur the extra $20 fee for parking. Parking is included if you stay at a Disney property. Lastly, another case for staying on property is that you often get docked with a resort and/or a parking fee at the off property resorts you are staying out. Nothing is a bigger turn-off for me than resort fees.
However, we recently stayed at the Wynham Bonnet Creek Vacation Rentals, which are located within the gates of Disney World. It is a great property if you want a little more space and bang for your buck. These condos are mainly a timeshare. So, you can either trade in your timeshare for one of these properties, rent off the website, or by owner on sites like vrbo.com.
Wyndham Bonnet Creek offers one to four bedroom apartments, sleeping 4-12 people. Each comes complete with washer and dryer, a full kitchen with coffeemaker, microwave, and a dishwasher.
The downside of a timeshare is that you don't have maid service throughout the week. The apartments are lovely and look relatively redesigned, but they are missing some of the Disney theme magic.
What they do have to offer though, are huge balconies to hang out on. At least 6 different pools, some with bars and restaurants, 2 lazy rivers, and 2 different water slides, a playground, and outdoor grills to cook on. We also really enjoyed the family fun activities they had daily.
The Wyndham Bonnet Creek also provides transportation to the Disney Parks.
Alternative Off Site Hotel at Disney World
The Sheraton Vistana Villages on International Drive is not far from the Disney parks. There was no resort fee. Parking was free. In addition, the two bedroom apartment we split with another family had ample space, a full kitchen, washer and dryer, a screened in porch – all for under $200/a night.
The Sheraton Vistana has a great life-guarded pool area with a water slide, hot tub, and fire pit. We spent an entire day there, and really enjoyed our time.
Overall, we all have different styles and priorities when traveling, and I hope this post has give you a variety of options of hotels at Disney World and outside of the parks.
PIN IT!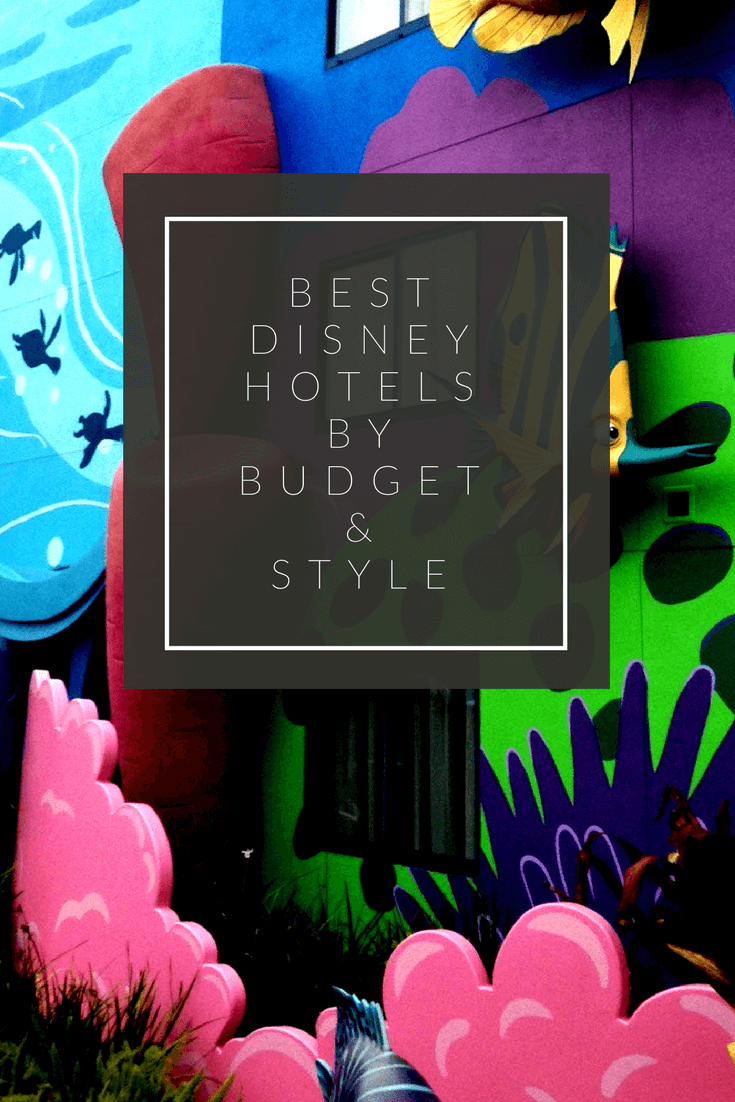 So, where is your favorite place to stay when in Orlando and visiting the Theme Parks? Let us know. We love to hear from you.