Raise your hand if you wanted to be an astronaut when you grew up? Now, raise your hand if your child wants to be an astronaut when he or she grows up? I would not be surprised if most people raised their hand (if you were actually following along on this little exercise). The point is, who doesn't love space? But, sometimes learning about space can be as boring as learning trigonometry, or as exciting as watching a fast action movie – which is why I was just not super sure about what it would be like to tour Kennedy Space Center with small kids.

The Kennedy Space Center has been on my wish list of places to visit in Florida for a long while. But, would it be fun for my kids – ages four and five? Or am I going to be hearing "I am bored" the entire time and dealing with my four-year old tugging at my clothes trying to get us closer to the exit?
The spectacular news, is that it was everything I wanted it to be and more. The Kennedy Space Center is very thoughtful in their mix of family friendly, entertainment, and education. The grounds are immaculate. There are amenities for everyone. The atmosphere is epic. The kid activities exist around every corner to keep them engaged in fun while learning about amazing feet in science.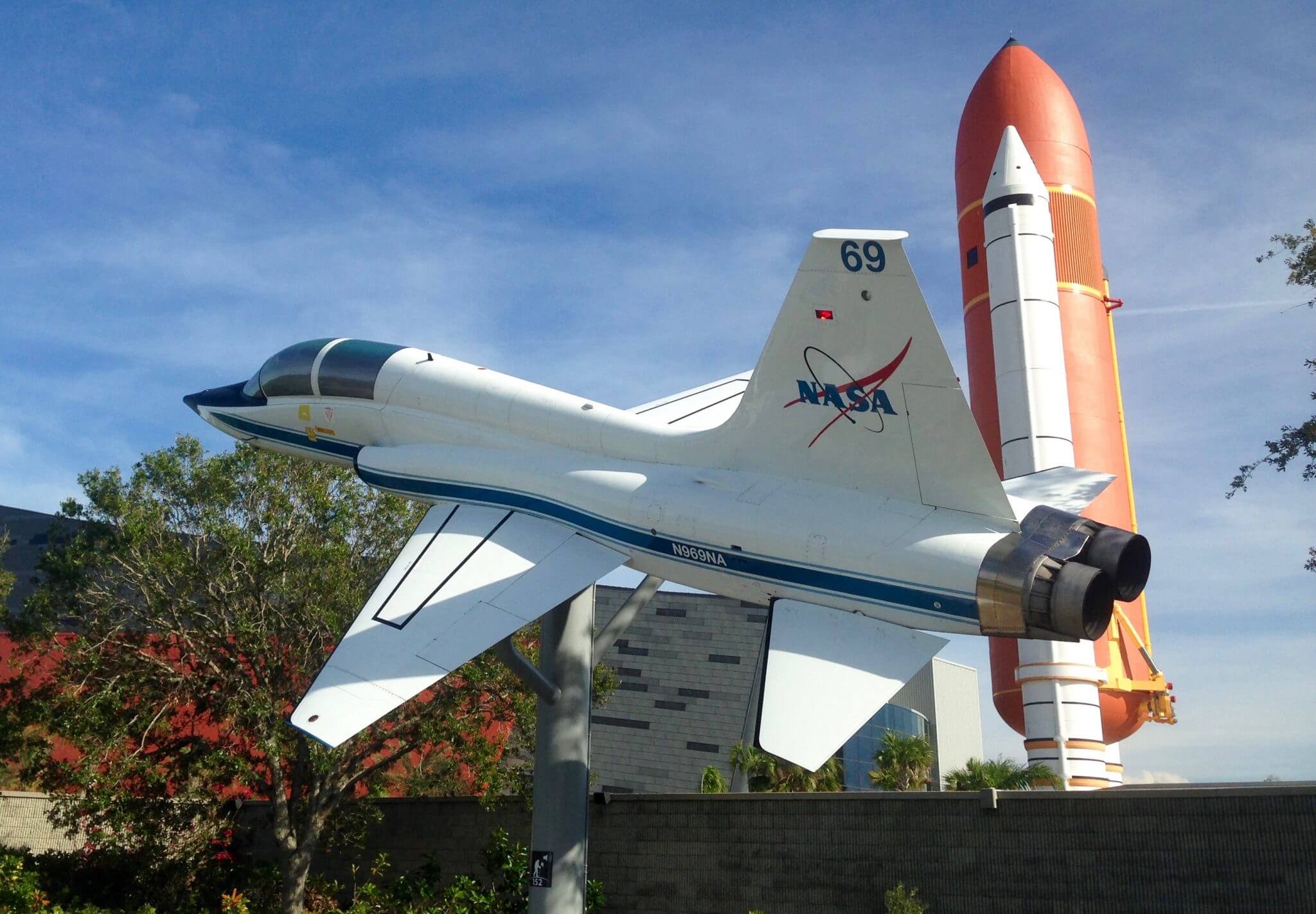 Tickets:
Tickets are $50 for an adult and $40 for children 3-11 years of age. While this is a little less than half than a day in Walt Disney World, your ticket does include a bus tour, 2 Different IMAX® 3D Movies, Shuttle Launch Experience, Rocket Launch Viewing(when available), Astronaut Encounters, Apollo/Saturn V Center, many other exhibits, and Space Shuttle Atlantis.
How Long Should I Expect to Be There?
This is an all day affair. Plan to arrive in the early morning, if not at opening, and stay until gates close. We arrived at 10 a.m. and left at closing, and definitely didn't see everything. Bring a stroller for little ones. There is a bit of walking around the campus and it will be a long day.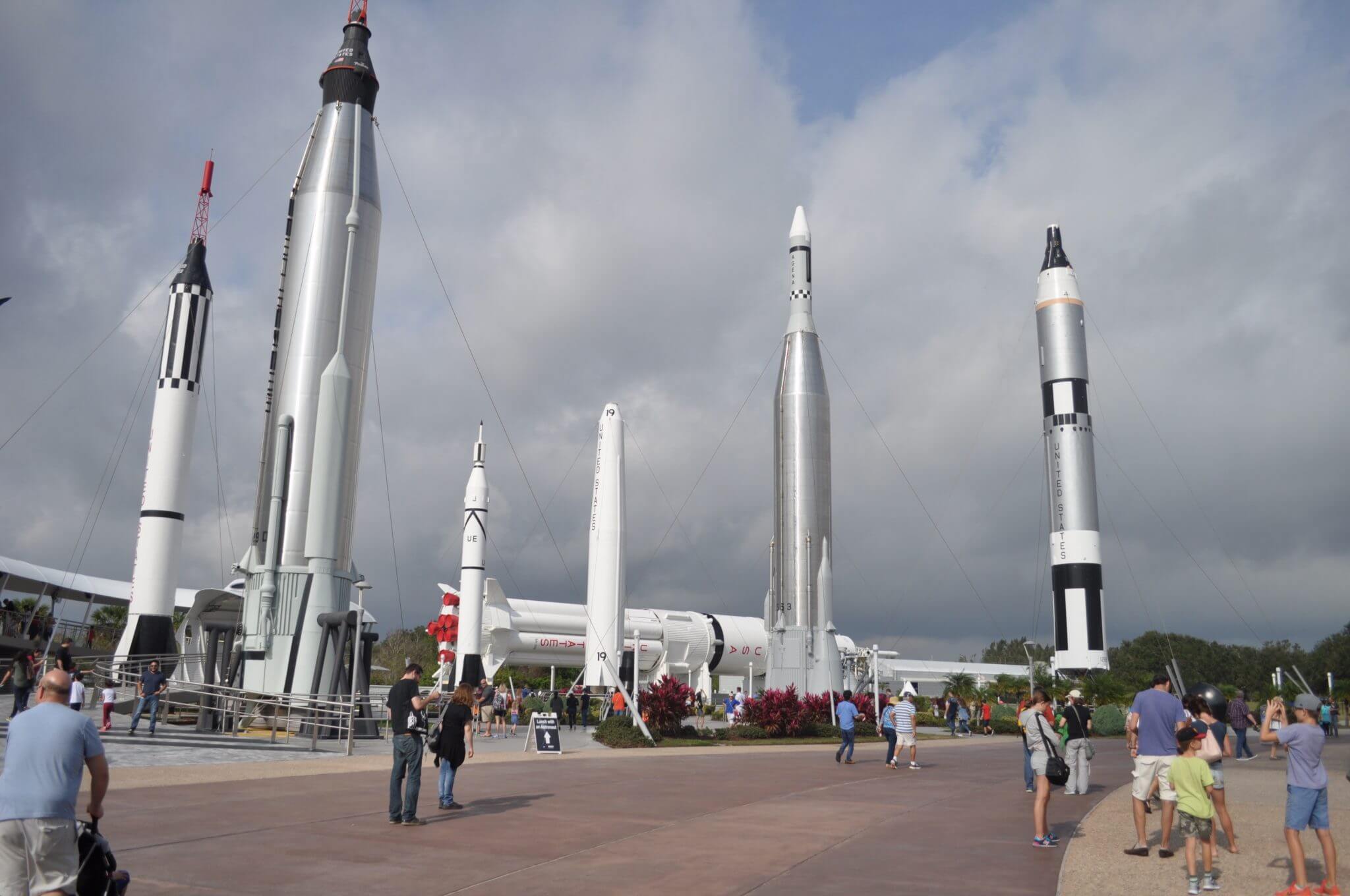 What Did We Like So Much About The Kennedy Space Center?
So much!
It is beautiful.
It is very clean and well-kept.
The music playing throughout the campus added to the epic scale of the exhibits. I felt like an astronaut about to embark in space.
The exhibits are really interesting, but particularly Atlantis, it was awe-inspiring.
The IMAX ® 3D Movies are really cool and informative.
There are 3 restaurants on campus, but you can also bring in your own food.
It is family friendly. There is even a nursing room with a rocker and changing table. I really appreciated that.
Hands-on activities for the young and young at heart.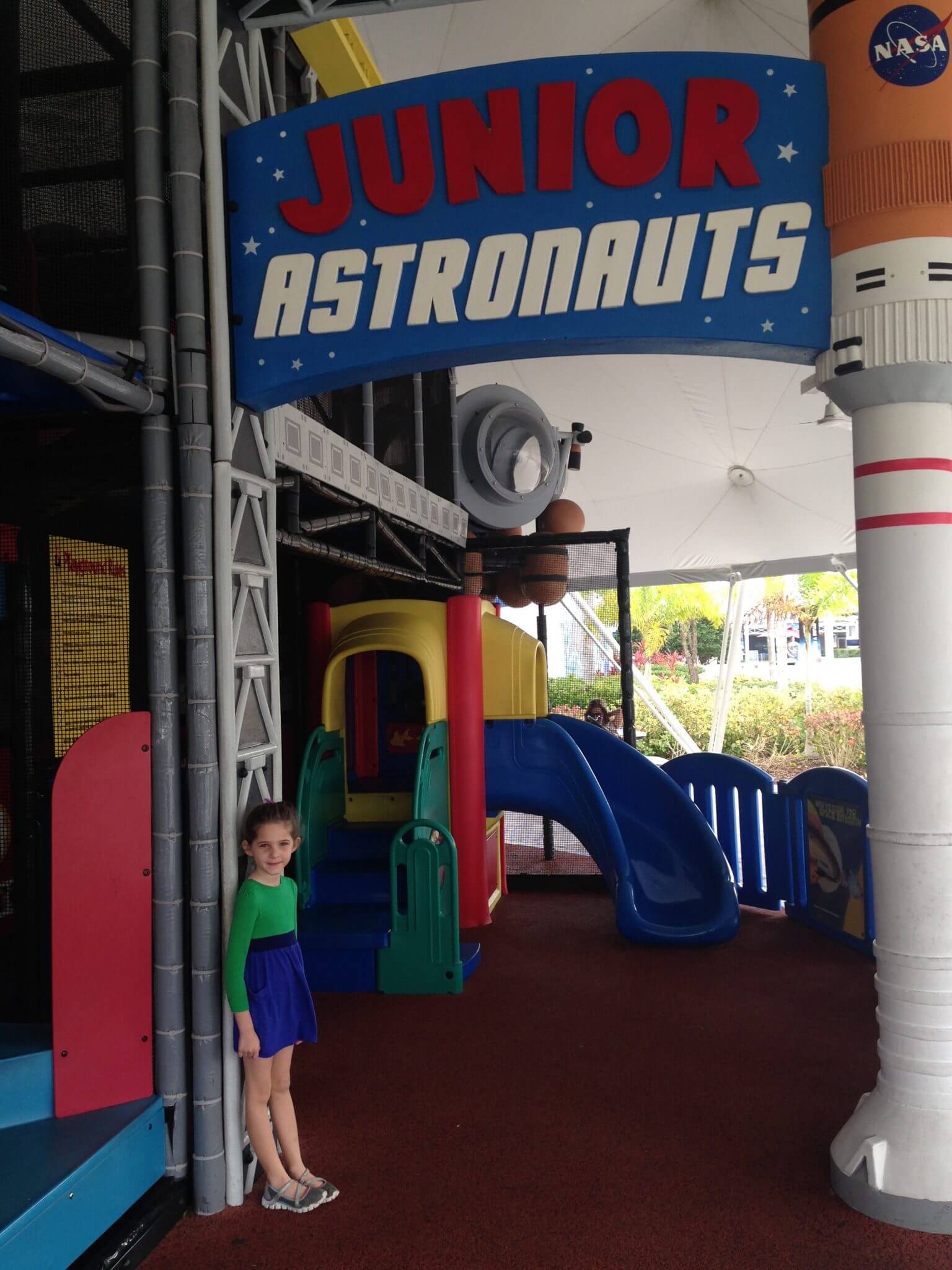 What My Kids Loved About The Kennedy Space Center
The Playdome for Junior Astronauts
The replica of 2 modules of the International Space Station, that suspends over three stories. Hunter got a bit caught up in it, reasonably so. But as I instructed him to turn around, he yells over to me and says "NO! I need to be the master of my enemy." I so appreciated that sentiment, and even if it took a kind teenage girl to accompany him through (his Mom and Dad not willing to do it), he accomplished his task at hand. It was a proud moment for all of us.
The Atlantis Slide that takes you from the second to the ground floor and demonstrates the angle of a landing space shuttle – a fun way to introduce kids to space science.. I rode it twice!
The IMAX ® 3D Movie "A Beautiful Planet".
The Space Shuttle Atlantis. It was this truly epic moment when this gigantic and powerful Space Shuttle was revealed. I don't want to give away too much, but it gave you goosebumps.
The simulation games. The kids had the chance to repair the International Space Station and land a Space Shuttle in a video game setting.
The Gift Shop. My kids love to browse the gift shop. We even picked up a cool birthday present for a friends 5th Birthday and a 3D postcard to use instead of a card.
The Shuttle Launch Experience. OMG! This was so cool. It is a similar simulator as the ones real astronauts train in and you experience everything from blast off to entering zero gravity. Incredible! *Children need to be 44 inches in height to ride.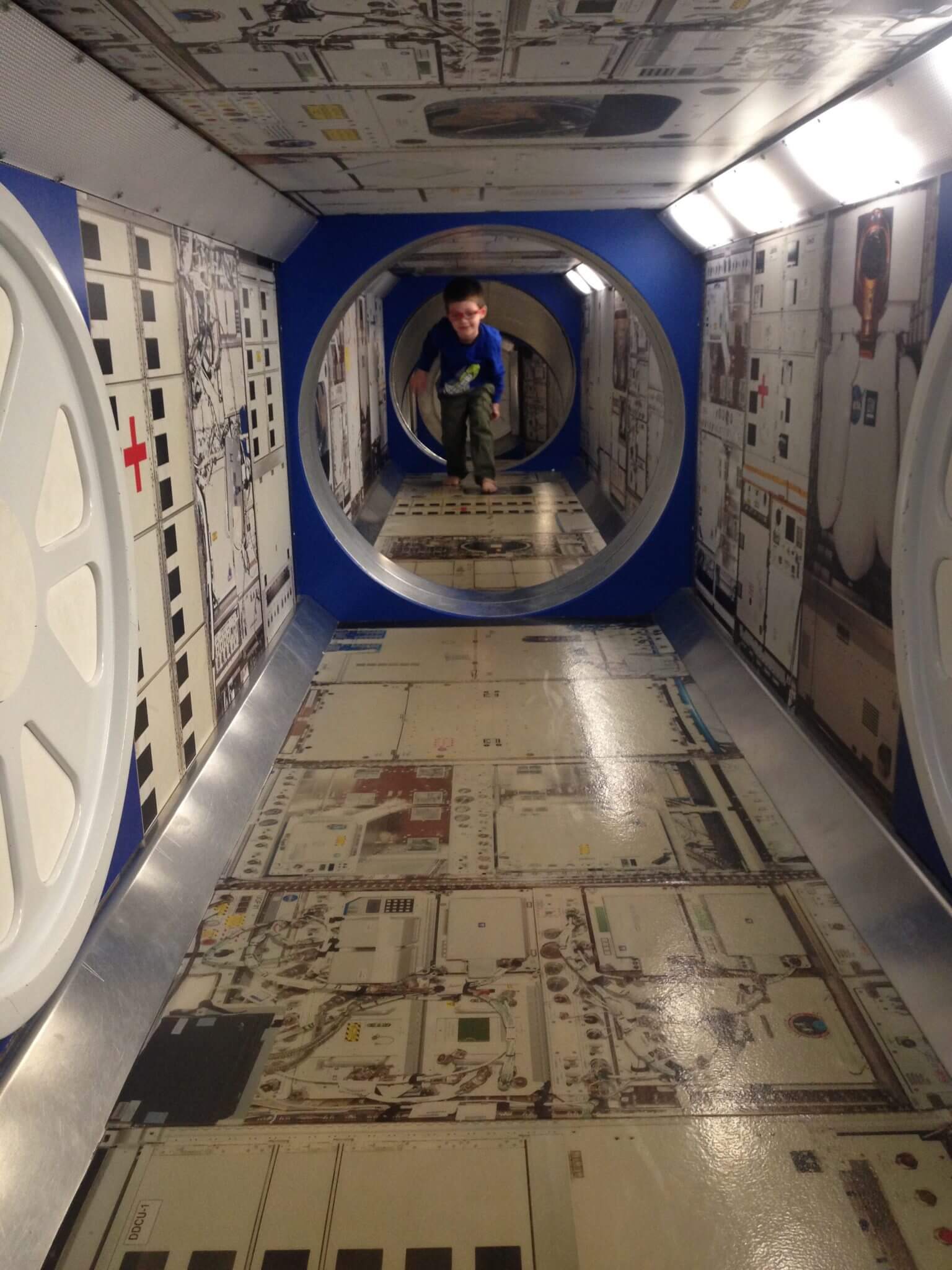 What We Skipped and How I Would Do It Next Time
Firstly, I would get there at opening. There is a lot to see and do and not nearly enough time to accomplish it all. We drove an hour in from Orlando, so we decided to let the kids play on the playground for a good amount of time. In hindsight that was a mistake, I would recommend heading straight for Atlantis. You will want to spend a lot of time there and there is plenty activities in the exhibit for children to get their wiggles out. After, grab lunch or take your picnic over near the shaded Playdome for Junior Astronauts. Then catch one of the two IMAX® Films before heading over the other exhibits. Here is the Kennedy Space Centers recommended itinerary for family with children under 10.
What We Missed:
We opted to not take the 2 hour bus tour. I just couldn't see our almost one year old faring well on the bus for a long amount of time. We only caught one of the two IMAX® Movies, and didn't even make it into the new Heroes & Legends exhibit. Eating Space Ice Cream plus multiple rides down the slide takes up lot of time.
Now that we have toured the Kennedy Space Center with our young kids, I can say it was totally worth it. I loved the attention to details that made this a truly family friendly destination. Its breathtaking and educational and inspiring. Next time, I want to make sure we go on a launch day!
Have you been to the Kennedy Space Center? Or is it on your travel wish list? Let us know in a comment below.
If this blog post would be helpful to you or someone you know planning a trip to the Kennedy Space Center, please, share away!
*This was a hosted post to the Kennedy Space Center. All opinions are our own.