The answer is – YES! This week I had the pleasure of taking my 5-year-old, Ruby, to see Cirque du Soleil's 'KURIOS' – Cabinet of Curiosities. This is probably the first big show she has seen, and she loved it! We don't go to the circus, so she loved being under the Big Top.  All week long, she looked forward to having a special date-night with Mommy. We got dressed up, had dinner, and went to see our first show, 'KURIOS' in Miami, next to the Hard Rock Stadium.
What We Loved About KURIOS – Cabinet of Curiosties?
Okay, really, there is nothing not to love about the show. But, I will break it down for you.
The Story:
In Cirque du Soleil's words – "In his larger-than-life curio cabinet, the Seeker is convinced that there exists a hidden, invisible world – a place where the craziest ideas and the grandest dreams lie waiting. A collection of otherworldly characters suddenly steps into his makeshift mechanical world. When the outlandish, benevolent characters turn his world upside down with a touch of poetry and humor in an attempt to ignite the Seeker's imagination, his curious jump to life one by one before his very eyes."
Sounds cool, right?
Aesthetic:
As a former film student, who studied the history of film, I was absolutely transported into some of the best silent films; films that started the science fiction and fantasy genres in movies. Now, my 5-year-old might not get the references, but I surely appreciated it. I felt like I was watching Metropolis or A Trip to the Moon. Cirque du Soleil describes the aesthetic as "retro-futuristic". I can dig it!
Music:
I wanted to tap-dance and waltz all over the theater. The music is infectious. Its mysterious and moody, uplifting and beautiful. And, its LIVE!!!
Costumes:
The details! I can't even explain how amazing these costumes are. I have always really been into costume design, and the ones in 'KURIOS' do not disappoint. What it would be like to be a dreamer and be able to make your dreams a reality? An artist!
The era of 'KURIOS' is Victorian-esque, but once you step into the curio-cabinet, you are taken into this sci-fi/steampunk/fantasy world. I loved Klara the telegraph of the invisible's costume the most. She had this hula-hoop-satellite skirt that looked like it could beam out magnetic waves. Ruby's favorite character was  Mr. Microcosmos. I won't give away his secret, but the larger than life man definitely carries one.
Acts:
If you are familiar with any of the Cirque du Soleil shows you know the talent is top-notch – from the acrobatics to balancing acts, to juggling, to flying, to contortion. The power of the human body and mind is awe-inspiring. At intermission, Ruby even did cartwheels and flips on the red carpet.
What You Need to Know About 'KURIOS' in Miami
'KURIOS' is 2 hours and 30 minutes, including a 30-minute intermission.
Ticket range from $39-$160.
Parking is $30 – WOWZER! I would rather spend that money on souvenirs or snacks. But, it is what it is. Thanks, Hard Rock Stadium. If you have a Sun Pass, you can pay with it and save $5.
BUY TICKETS HERE: cirquedusoleil.com/kurios or calling 1-877-9 CIRQUE (1-877-924-7783)
'KURIOS' in Miami through January 2017, before heading to Texas.
Is the show good for ALL kids?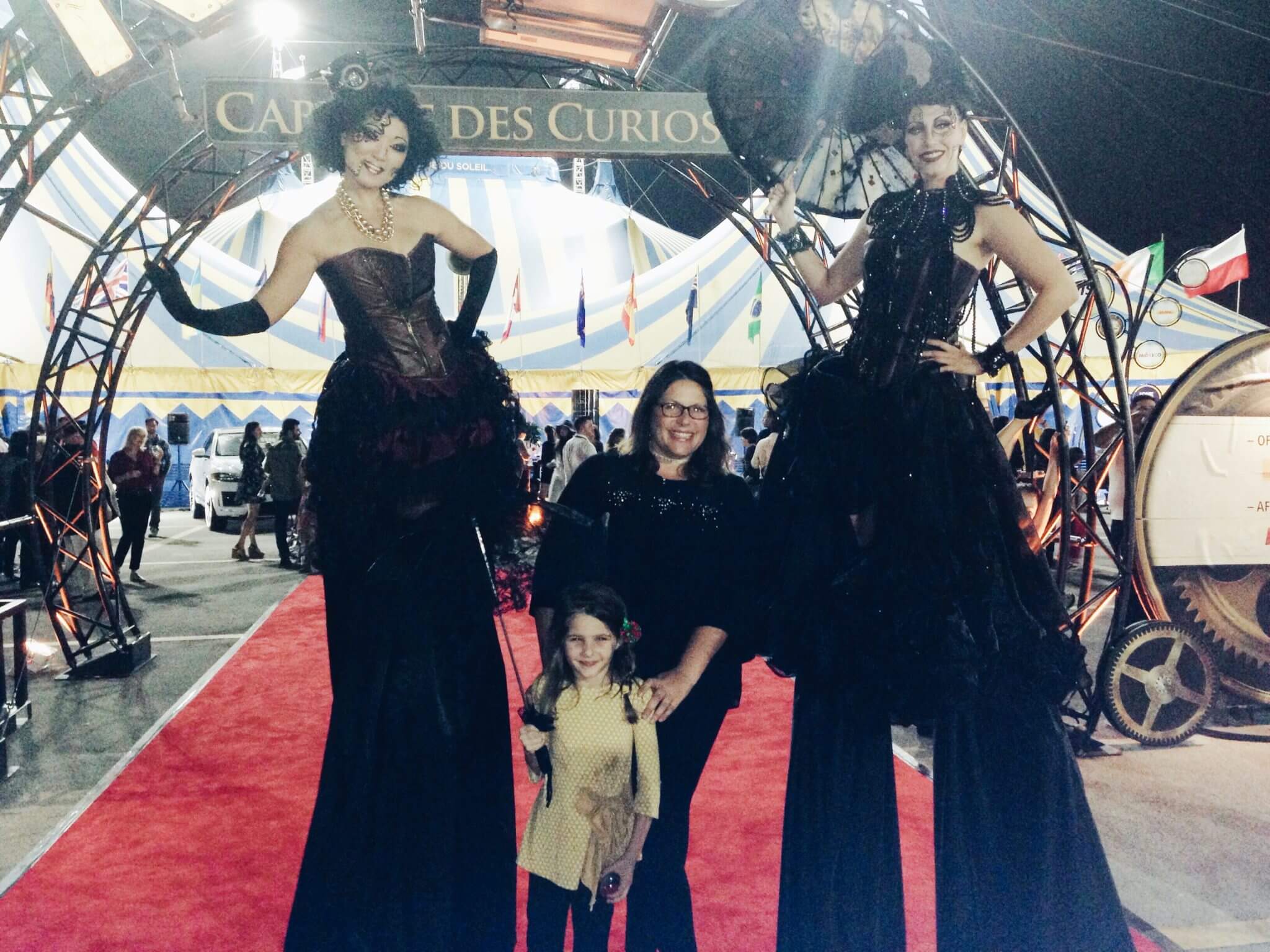 I purposely left my 4-year-old at home for this one. The show can be a little dark at times and the narrative very loose. Hunter would have enjoyed the acrobatics, but he would have been a little scared.
If you are a fan of fantasy, science fiction, steampunk, or have a vivid imagination – as all kids do – you will be enthralled with 'KURIOS'.
Have you seen 'KURIOS', or any other Cirque du Soleil Shows? Tell me which one was your favorite and if you have ever take your kids, in the comments below! I'd love to hear from you.

If you want to know more, check out this great Behind the Scenes video!